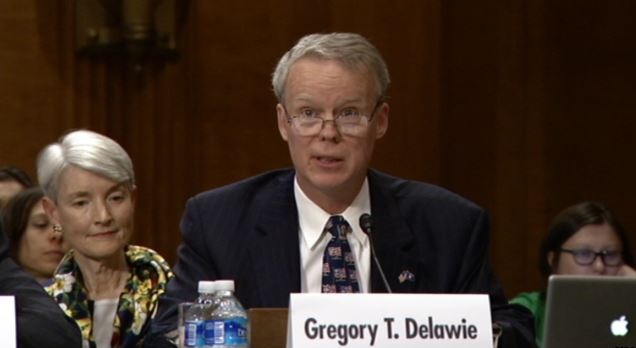 Pristina, 22 May 2015/Independent Balkan News Agency
By Elton Tota
The candidate for the American ambassador to Pristina, Gregory Delawie declared that he will support the state of Kosovo in the challenges that it faces.
"If my candidacy is approved, I will focus on three important aspects: the rule of law, the expansion of regional security and the encouragement of economic reforms", said Delawie, responding yesterday to senators' questions in a session of the Senate Committee for Foreign Affairs.
The senior US diplomat stressed the need for the government of Kosovo to draft a coordinated methodology in to counter the problem of corruption.
The USA, he said, can offer concrete assistance in this aspect, offering expertise from a number of US agencies.
Delawie also mentioned the creation of the Special Tribunal which will investigate war crimes.
"Kosovo must deliver its commitments by approving the necessary legal amendments for the creation of the Special Tribunal which will handle the alleged war crimes. If my candidacy is approved, I will encourage the government of Kosovo to intensively support the judicial procedures of this institution", Delawie added.
Another important institutional process is that of the transition from Kosovo Security Forces to the Armed Forces of Kosovo.
"If my candidacy is approved, I will work in order to make sure that the United States lead this transition in a way that increases regional stability, strengthens democratic institutions in Kosovo and positions Kosovo in a position to deliver the criteria for NATO accession in the future", he said.
The US diplomat also said that Kosovo has made big progress since independence. He said that the country has seen a sustainable economic growth and significant improvement in the state of security, creating an atmosphere which allows the holding of talks between Kosovo and Serbia through EU brokerage.
He underlined that relations of the United States with the Republic of Kosovo are backed by a joint vision for the legitimate place that this state has in a free and peaceful Europe.
According to him, the achievement of this vision faces a number of obstacles in Kosovo's path to become a fully democratic, multi ethnic and functional country. /ibna/