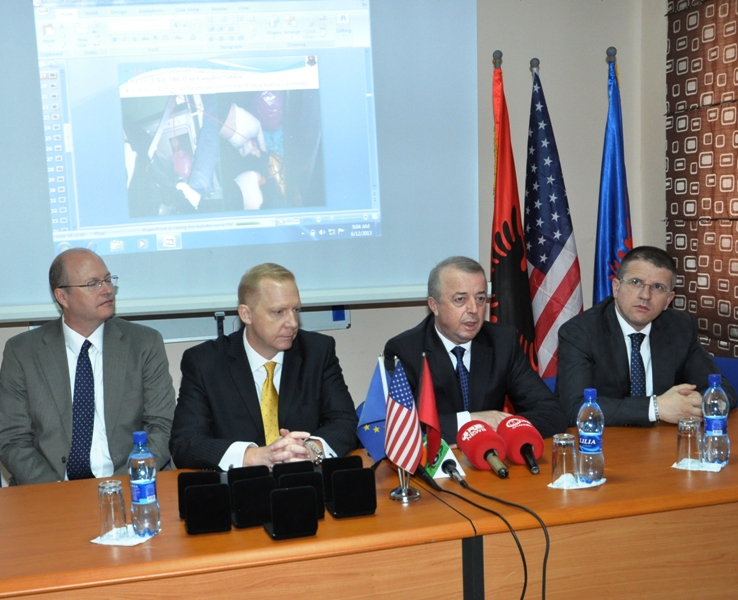 Tirana, June 12, 2013
The US embassy in Tirana issued a commendation certificate on Wednesday for several officers of the Regional Directorate of Border Police and Migration in Durres for the results achieved in strengthening and preserving the border especially in the fight against drug traffic.
Present in this ceremony which was held in the premises of border police at the Port of Durres was the General Police Director, Hysni Burgaj, the vice US ambassador Henry V. Jardin, the vice General Director of Border Police and Migration, Mr. Pellumb Nako and the Prosecutor of the Prosecution for Serious Crimes Eugen Beci.
US vice ambassador, Henry V. Jardin considered the improvement of results by Border and Migration Police at a rate of 100% shows the engagement of Albania through border and migration police in the fight against international illegal traffic in the border.
Since its creation in 2003, the Program for Control and Security of Borders has supported border and migration police with 1 million USD in the form of trainings, equipment and support to improve capacities.
Pointing out the assistance given by the USA for border police and migration, vice ambassador Jardin said that: "The USA are proud for supporting border police through the program for the Control and Security of Borders. The US embassy will continue to strongly support border and migration police in order to improve international standards of the management of borders". /ibna/