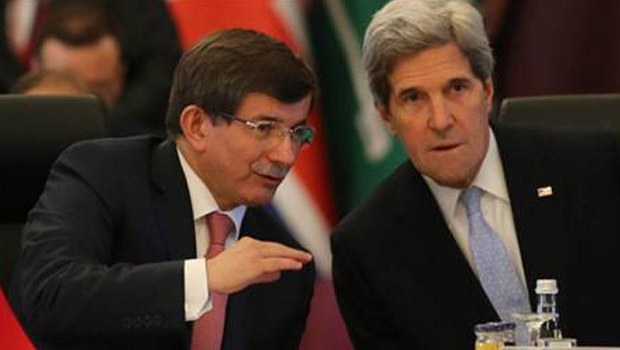 By Kyriacos Kyriacou-Nicosia
Turkish Foreign Minister Ahmet Davutoglu had a telephone conversation on Monday with US Secretary of State John Kerry over Cyprus, as the island's President Nicos Anastasiades is preparing to meet on Tuesday morning Turkish Cypriot leader Dervis Eroglu.
The two men discussed the latest developments in the Cyprus problem and underlined that the resumption of the UN-led peace talks between the two communities for the unification of the divided island should be backed. They also agreed that unilateral steps should be avoided as they might harm the whole process.
Cyprus was divided in 1974 when Turkey invaded and occupied its northern third. The latest UN-backed talks were suspended by the Turkish Cypriot side in July 2012, when Cyprus assumed the presidency of the Council of the European Union. Last week the leaders of the two communities agreed on a draft joint declaration on the resumption of the talks and will meet on Tuesday in the United Nations Protected Area in Nicosia in the presence of Lisa Buttenheim, Special Representative of the UNSG in Cyprus.
The meeting
According to information, Cyprus President Nicos Anastasiades will attend the meeting with the Turkish Cypriot leader, accompanied by six of his aides. The negotiator of the Greek Cypriot side, Andreas Mavroyiannis, and the Director of the President's Diplomatic Office Nicos Christodoulides will accompany the President, in addition to associates from both offices. The meeting, scheduled for 11.30 in the UN Protected Area, in the now defunct Nicosia international airport, is expected to last about an hour and it is likely to be more of a procedural nature.
The UN will be represented by the UN Chief of Mission here Lisa Battenheim, who at the end of the meeting will read out the joint declaration of the two leaders, the draft of which both leaders have said they adopt.
President Anastasiades may make a brief statement to the press at the end of the meeting and on Wednesday evening, he is expected to give a press conference on the latest developments in the effort to find a negotiated settlement that would reunite Cyprus.
Eroglu is also expected to be accompanied by six of his top aides, in addition to an interpreter. The resumption of the UN-led talks takes place following months of discussions between the negotiators of the two sides on the text of a draft joint declaration, to which both leaders have given their consent. President Anastasiades has stressed "this is just the beginning", adding that the draft secures the "three singles" (sovereignty, citizenship and international personality) of Cyprus.