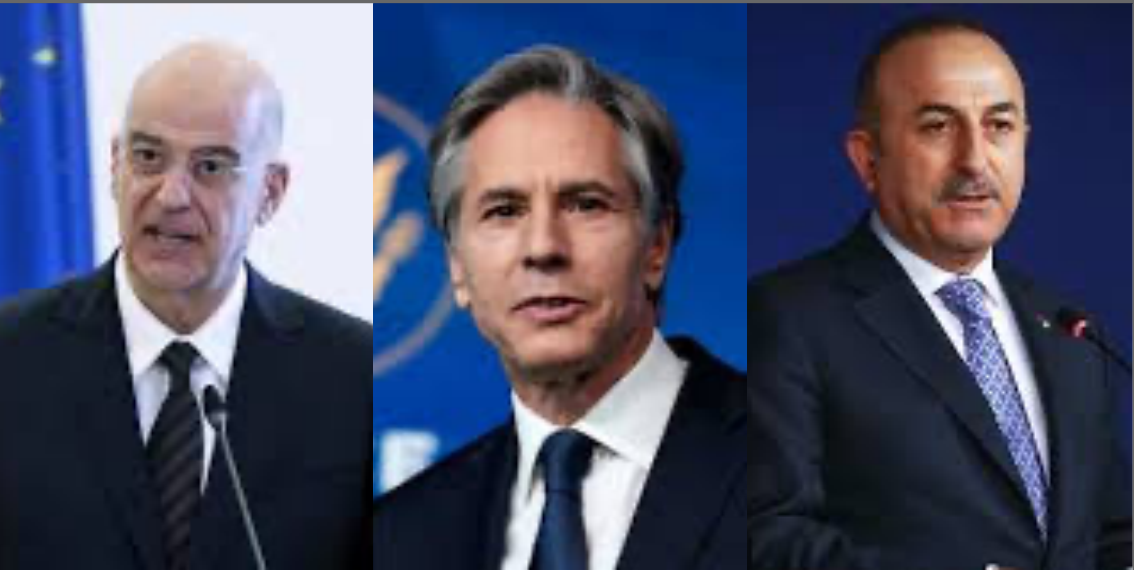 US Secretary of State Antony J. Blinken held today a series of phone conversations with the Foreign Ministers of Turkey and Greece, Mevlüt Çavuşoğlu and Nikos Dendias respectively.
According to a State Department statement, during the meeting with his Turkish counterpart, Blinken stressed the longstanding importance of the US-Turkey bilateral relationship, the common interest in the fight against terrorism and the importance of democratic institutions, governance without exclusions and respect for human rights. Both sides pledged to boost co-operation and support a political solution to the conflict in Syria. The US Secretary of State expressed his condolences over the deaths of Turkish hostages in northern Iraq and reaffirmed the US view that the PKK terrorists are responsible. Blinken urged Turkey not to maintain Russia's S-400 missile system. The US Secretary of State also expressed his support for ongoing exploratory talks between NATO allies Turkey and Greece.
During a phone conversation between US Secretary of State Antony J. Blinken and his Greek counterpart Nikos Dendias, the State Department announced that the two men reiterated their commitment to further strengthening US-Greek bilateral relations, including through the US-Greece Strategic Dialogue and the 3+1 mechanism with Cyprus and Israel, as well as close cooperation in the field of defense, energy diversification and stability in the wider Eastern Mediterranean region. Minister Blinken welcomed the continuation of the Greek leadership in promoting the Transatlantic and European integration of the Western Balkans. Blinken and Dendias reaffirmed the historical significance of North Macedonia's accession to NATO. The US Secretary of State expressed his support for the continuation of exploratory talks between the NATO Allies of Greece and Turkey and congratulated Greece on celebrating the 200th anniversary of the start of the Greek liberation struggle this year.
In a Twitter post, the Greek Foreign Minister wrote that "I spoke by phone to US Foreign Minister Anthony J. Blinken. Both recognized that bilateral relations between the two countries have reached their highest level ever. In this context, ways of further enhancing the strategic cooperation were examined, with special emphasis on the energy and defence fields. I informed my US counterpart on the deepening of relations with the countries of the Middle East and the Gulf, both bilaterally and in a multilateral context. I also spoke about developments in the broader region, including Libya, Syria, and the Eastern Mediterranean, making also reference to Turkish actions."
It is notewoethy that the Greek Minister did not make any reference to his message about North Macedonia and the Western Balkans. /ibna