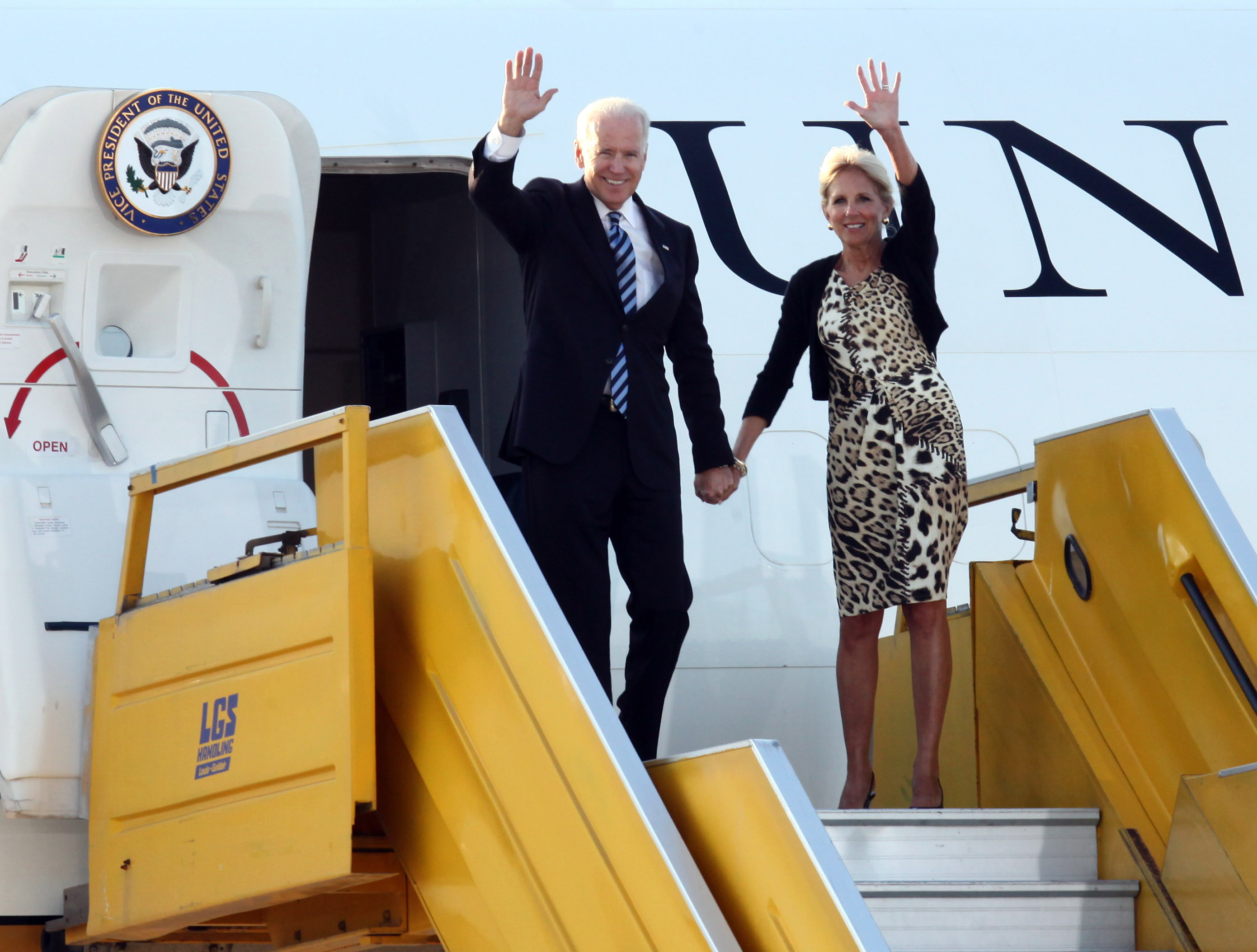 By Kyriacos Kyriacou-Nicosia
US Vice President Joe Biden arrived Wednesday afternoon to Cyprus for a two – day visit. He is the first US Vice President or President to come here in 52 years, since former American President Lyndon B. Johnson' s visit. Biden, his wife and his entourage, consisting 400 people-including members of US police and army forces-arrived at Larnaka Airport on board the Air Force Two, which is used by the US Vice Presidents. The US official was welcomed at the Larnaka Airport by Foreign Minister Ioannis Kasoulides.
His statement
Biden made a short statement to the press, before departing for his hotel at the coastal town of Limassol.
He stressed in his statement that the "US recognizes only the legitimate government of Cyprus and my visit will not change that", adding that his visit underscores the significance the US attaches with the Republic of Cyprus. He also said that "it is a growing cooperation and this relationship is a genuine strategic partnership that holds an even greater promise". Biden emphasized Cyprus` growing leadership in the Mediterranean and said that he looks forward to the talks he will have tomorrow with the President of the Republic of Cyprus Nicos Anastasiades.
Reports from Washington suggested that the agenda would focus on a "master-plan" to finance the rebuilding of the occupied town of Famagusta, and that the deal – which would also feature the demining of three minefields – would be announced shortly after the visit's conclusion. In addition to seeing President Nicos Anastasiades, Biden will meet with the religious leaders, members of political, business and civil society.
Meeting with Eroglou
The US Vice President will also meet Turkish Cypriot leader Dervis Eroglou in the occupied north part of the island. The meeting caused mixed reactions in the free part of Cyprus. The 'Turkish Republic of Northern Cyprus' is not recognised by the United Nations or any country other than Turkey. Greek Cypriot opposition parties here insist that Biden's trip to the north will somehow impart legitimacy to the breakaway regime.
However, in a statement yesterday, the office of the Presidency said Nicosia has received assurances from the US government "that in order to avoid any attempt to exploit the meeting for other purposes, the Vice President will meet Mr. Eroglu not in his usual office but in an adjoining building, without any symbols whatsoever."
Government spokesman Nikos Christodoulides described Biden's upcoming visit as "extremely significant", asserting that it indicative of the US' increased interest in the Cyprus problem.