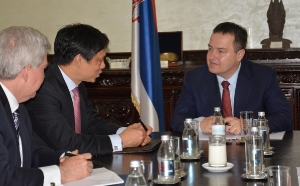 Serbian Foreign minister Ivica Dacic has rebuffed statements of the US Department of State official Brian Hoyt Yee as "nonsense". Speaking at the Serbian Economic Summit earlier this week Yee, deputy assistant secretary of state, has said that Serbia "sits on two chairs" in its foreign policy, balancing between Russia and the West. Yee repeated his statement at the meeting with president Aleksandar Vucic. Dacic said that Serbia "is interested only in its interests".
Serbia will continue to act "in accordance with its national interests" regardless of the remarks "from outside", Dacic told journalists on Thursday evening. Belgrade is not "interested at all in chairs of others, but rather in only one (chair) which is Serbia", foreign minister went on.
"That is nonsense. All of that is nonsense. I think that some people, including the representative of the Department of State, have been watching the War of the Worlds and Sci-Fi stories to much", Dacic said.
"The countries which aspire to become EU members have to show that decision clearly. You cannot seat on two chairs, especially if they are so far away", Brian Hoyt Yee said in Belgrade.
Considering the American position that Serbia should not grant diplomatic immunity to the Serbian-Russian humanitarian centre in Nis, Dacic said that its status "depends exclusively on Serbia and not on US or Russia". He repeatedly claimed that the centre is not an institution for espionage and that its staff consists of "five Serbs, four Russians and one dog".
According to the Radio-Television of Serbia, the Serbian FM quoted  former US Secretary of State, Henry Kissinger, "as saying that it is not possible to further aggravate US-Russian relations, adding that they will eventually find a common interest while Serbia needs to protect its interests."…/IBNA
Photo: Foreign Affairs Ministry of Serbia