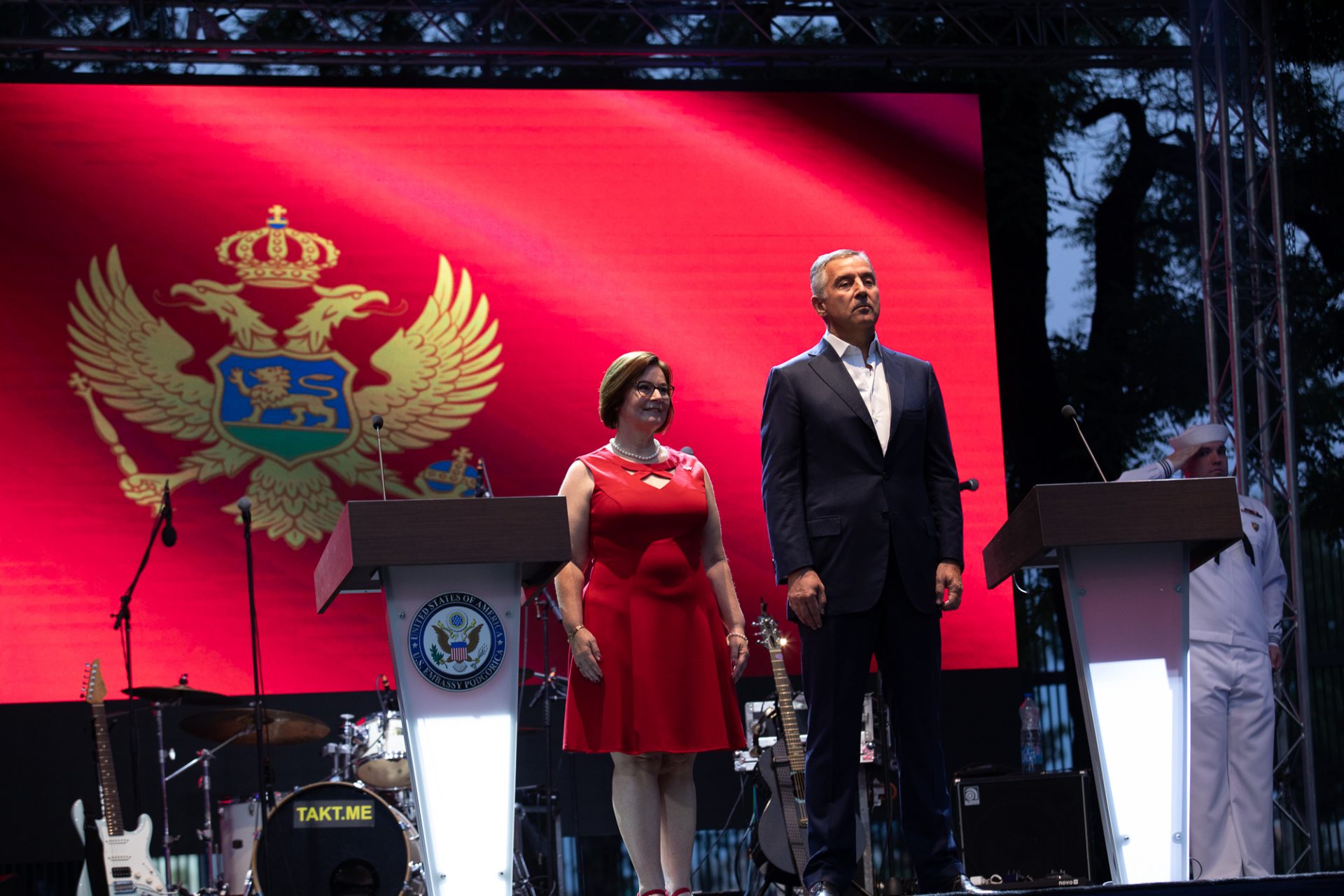 Montenegro president, Milo Đukanović, said on Thursday evening that his country is going to keep on promoting western values, focused on reaching standards of contemporary democratic societies, maintenance of multi-ethnicity and multiconfessionalism of community and improvement of life quality of citizens.
"This will make Montenegro be the next EU member," said Đukanović, at the reception in the US Embassy on the celebration of July 4.
As reported from the President's Cabinet, Đukanović emphasized that the history of relations between Montenegro and the USA was long and rich and that a real friendship had been instilled in it.
It started in 1905 with the first American diplomatic representative John Jackson that the street we are in was named after, and it continues today with Ambassador Judy Reinke. We are proud of the century's long struggles for freedom and the values we share today. Thousands of Montenegrin young men have gone to America since the mid-19th century searching for better and happier life from Sacramento to Alaska. In early 20th century, more than 10% of our total population lived in America and worked in the most difficult jobs there.
These young men gave their youth to America and they used to send and bring the desperately needed money to Montenegro, but not only the money. They used to bring new ideas and information about technological progress and about a better and different world," stressed the Montenegrin president.
Little is known, according to Đukanović, about the fact that Montenegrin King Nikola anticipated the importance of the Trans-Atlantic connection.
"He generously offered the Montenegrin coast near Ulcinj to President Taft so that the USA can set up a navy base and a station for the supply of American ships in European waters. Mr Pearson, a diplomat, said that he wanted to see that nation that had managed to regain independence even before the discovery of America. He also said that "Montenegro had decided to overtake America".
Political cooperation between Montenegro and the USA intensified in the lead up to the Great War.
"Today our countries cherish the memories of the great events from our history. Montenegrin emigrants did not only work in the USA. When it was needed, they fought for freedom together with Americans in the First and Second World War. The American Congress awarded only 121 American soldiers with the highest military decoration – the Medal of Honour – for their courage in the First World War. One of them was Montenegrin Joko Meštrović. It will be forever remembered how America acknowledged his courage and his sacrifice for freedom when in 1925 they sent American fleet to Boka where with flags flown at half-mast and with army music Joko Meštrović's mother was presented with the Medal of Honour that was posthumously awarded to her son", stressed Đukanović.
He thanked the American partners for the support to reform processes in Montenegro. He also thanked Ambassador, Ms Judy Rising Reinke, for her assistance in creating the environment suitable for higher FDI inflow and greater number of US tourists./ibna