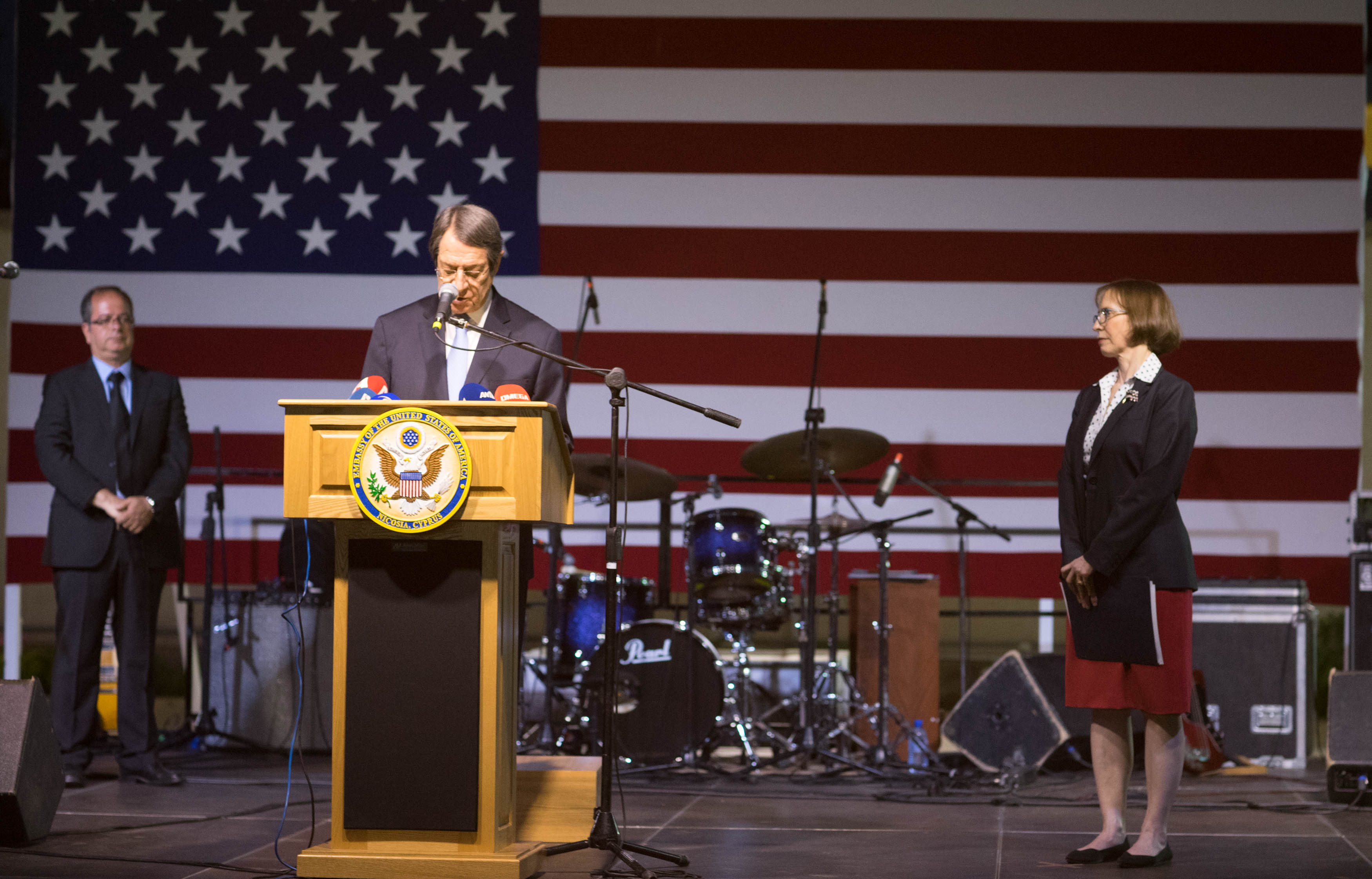 The country recognizes the right of the Republic of Cyprus to develop the resources in its EEZ, said Ambassador Garber.
By Michalis Michael
Washington's deep concern about Turkey's announced intention to start drilling in the waters near Cyprus has been expressed by the US Ambassador in Cyprus, Judith Garber, noting that her country has called on the Turkish authorities to stop these operations.
Meanwhile, speaking on Thursday evening, during a reception at the US Embassy in Nicosia for the 243th anniversary of US Independence Day, and in the presence of US Deputy Assistant Secretary of State for European and Eurasian Affairs Matthew Palmer, Ms. Garber reiterated that her country recognizes the right of the Republic of Cyprus to develop the resources in its EEZ, expressing the belief that these resources should be shared fairly between the two communities of the island within the framework of an overall settlement of the Cyprus problem, and the hope that they will soon benefit from a united Cyprus. Ms. Garber said that the discovery of hydrocarbons in the EEZ of Cyprus offers great hope. "We hope that these resources will promote prosperity across the Eastern Mediterranean and will help diversify Europe's energy supply," she added.
Gratitude from Anastasiades for the attitude of US authorities
For his part, the President of the Republic of Cyprus expressed his thanks for the US authorities' attitude towards the Cyprus problem and their firm attitude, with which they oppose Turkey's plans for illegal drilling, and for the support of the sovereign rights of the Republic of Cyprus in its EEZ.
He also underlined the special importance that the Cypriot government attaches to the cooperation of Cyprus with the USA, noting that the aim remains to maintain the current dynamics and to further strengthen the bilateral cooperation between the two countries. President Anastasiades referred to areas where he believes that, based on the principles of reciprocity and solidarity, there is room for further promotion of this mutually beneficial relationship, as he described it.
Such areas, he said, are the upgrading of the 1984 Agreement for the Avoidance of Double Taxation, the accession of Cyprus to the US Visa Waiver Program and the lifting of the US embargo on Cyprus for the sale of military and defence equipment. Regarding the Cyprus issue, Garber said in her speech that the US continues to support the efforts of the leaders of the Greek Cypriot and Turkish Cypriot communities, with the help of the United Nations, in order to reach a just and lasting settlement that will reunite the island in a bizonal, bicommunal federation./ibna