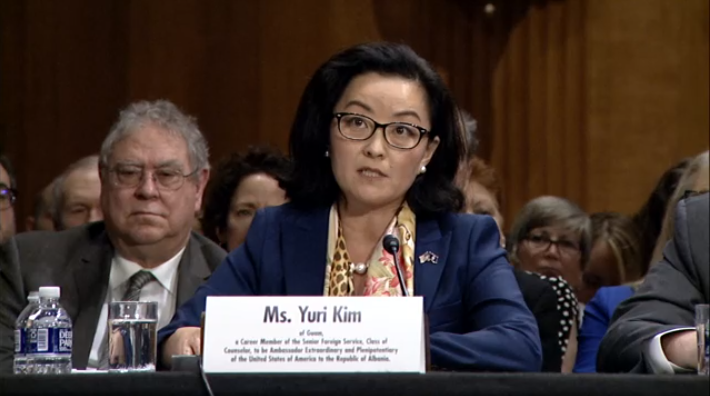 Yuri Kim has been nominated by President Donald Trump as the next US Ambassador to Albania.
On Tuesday, the experienced ambassador with more than 20 years of diplomatic experience and background from Guam, presented herself before the Senate Foreign Relations Committee for a confirmation hearing.
Yuri Kim, a graduate of Guam's Our Lady Academy, presented her international background to the committee.
"If confirmed, my position will be the first American-Korean woman to represent our great nation as an ambassador. I will also be our first US ambassador from Guam", Kim said.
"For more than two decades, I have had the privilege of serving our country with the Foreign Ministry. From Beijing to Baghdad and the intermediate places, I have been trying to ensure that the United States remains strong, resilient and secure, and that our people and our businesses thrive", Kim continued.
For those who think of Albania as a relatively obscure part of Southeast Europe, Kim stressed that the country has been a NATO member since 2009, a key point and friend of America in the middle of a troubled region.
"Few friends have embraced America more warmly. Opinion polls show that Albanian support for the United States remains among the highest in the world", Kim said. "Few allies are more loyal than Albania, while Albanian troops are on our side in Afghanistan, Kosovo, Bosnia and NATO's eastern front and few partners are ready and willing to do more with the United States".
"I will assist with US diplomacy and foreign policy the strengthening of the rule of law and the fight against corruption and organized crime", proposed Ambassador to Albania Yuri Kim said./ibna