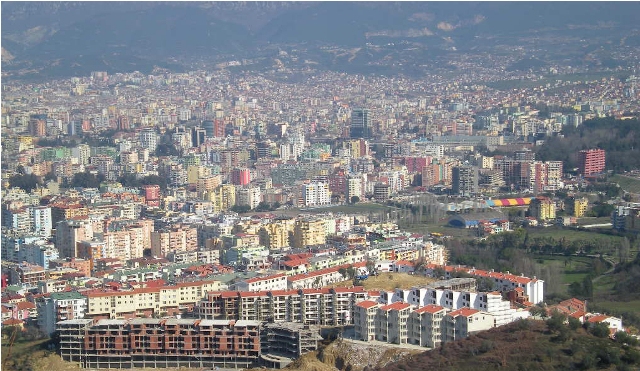 IBNA Special Report/In the recent days, Albania saw the finalization of the official process of self declaration for illegal constructions. This saw the end of the period of illegal constructions which enveloped the country since 1991
Tirana, February 23, 2015/Independent Balkan News Agency
By Edison Kurani
Social drama of large scale dimensions
For nearly two decades and a half, Albanians saw the biggest social drama, that of urban chaos. This period was marked by thousands of bloody conflicts. Hundreds of people were killed, thousands of others were wounded. There are also grounds for conflicts of non acute effects.
A large part of this has resulted from unlawful constructions, because many people occupied plots of land, by not asking who they belonged to. Lands throughout the entire country, especially in Tirana, where a part was state owned and the other part belonged to legitimate owners.
The majority of these people were never given back their properties and only a small part was somehow compensated. It is said that this process will continue, but nobody knows until when.
On the other hand, illegal constructions were sometimes accompanied with conflicts between newly arrived people who used to occupy lands and who used to dispute over the division of the territories that they occupied.
But the social drama of illegal constructions doesn't end here. The majority of illegal constructions are concentrated in suburban areas, where people suffer the lack of services. There are no streets, schools, kindergartens, day care centers, sewage systems, normal infrastructure, etc.
A lot has been said during these years about the care of state for informal areas, but very little has been done so far: Out of around 1 million buildings, around half of them are illegal.
Albanian Institute of Statistics for the first time announces an interesting fact about the number of buildings that exist in the country. There are 1008243 one story buildings in total. This includes every building built for inhabitation, business, services, etc.
What's surprising here is the fact that out of this figure, around half, 427 thousand constructions, are illegal and have been built in the past 24 years.
Artan Lame is general director of ALUIIAC (Agency for Legalization, Urbanization and Integration of Informal Areas and Constructions).
He says that 272 thousand illegal constructions had been declared until 2013, while 155 thousand others were declared in the past two years. Lame says that the total figure of 427 thousand cannot be exact, but the most credible one so far. "This figure cannot be considered as the most accurate one, because it doesn't include illegal constructions added from 2013 to 2014, but also a number of illegal constructions spread in time, but which have never declared from 2000 and onwards".
Mr. Lame says that these figures are shocking. "427 thousand informal buildings is an impressive figure, which must make us reflect on the colossal weight of this phenomenon of unlawfulness and the colossal damage that we have done to the territory. We must reflect on the lack of strength of state structures in these two decades, to stop the phenomenon and on the political exploitation made to this human problem".
People awaiting, billions of Euros blocked
At the moment, at least 350 thousand Albanian citizens are waiting for their unlawful buildings to be legalized. If this happens, like the government has promised, all buildings will be issued with ownership certificates.
Immediately after this, Albania will see the introduction of a real estate market which is currently almost blocked.
Kristo Ikonomi, the owner of a real estate agency in Tirana, explains the reasons why the situation has been blocked. "Many people want to move, sometimes to spend less, sometimes to a better area. Other people want to buy new homes. Some want to leave the country. Many others want to come back from emigration abroad, but their possibilities to sell and purchase properties are very small, because half of constructions are unlawful and they have not been issued yet with a certificate. The other half are not willing to move and very few are interested on the sale and purchase of properties".
The real estate expert has carried out a poll with many interested people. He's clear that the real estate market in Albania will breathe freely once unlawful constructions are legalized. "There are 500 thousand unlawful constructions and many of them have been put for sale. They want to sell them, but the lack of ownership certificate is preventing them".
But why do these people who have built unlawfully, want to sell these properties. There is an explanation for this, therefore IBNA observed several informal areas and talked to several people, who didn't want their names to be revealed. They say that they have occupied areas which enable them to sell both land and property.
A 62 year old man from the north who has been living in Tirana for around 20 years, says: "Here, I have occupied around 2 and a half roods. I finished the construction of my home, by building the second floor. Then I built a home for my son who just came back from Greece. He also has a two story house. Then, I built another home a little further. We have plenty of land. We have declared it for legalization and they have told us that they will issue us certificates. Once we take them, we will earn some money".
There are many people like this one who have large areas of land awaiting legalization. This would offer them an opportunity to do business. Kristo Ikonomi, a real estate expert says: "There are many people who have built their home and another home, which they could sell. Many others possess land that they can sell to other people interested on moving".
So far, a business worth billions at the detriment of the citizens
Not only as a result of public perception, but investigations and governments have also confirmed that the offices that handle the legalization of properties in Albania are the biggest abusers of office. Many financial abuses have taken place. People are obliged to pay bribes by turning these offices into some of the most corrupt ones in the recent years.
On the other hand, there have also been many legal violations. Buildings have been included in the legalization process in areas where legalization was not permitted. The space of the land declared has been increased through forgery. Many other breaches turned these offices into a money machine, where the people used to pay bribes with the hope of receiving a faster service, legalization or dishonest profits.
Billions of Lek have been generated by this "business" conducted between state offices and the citizens.
This story is hoped to end soon, but let us not forget that the process of legalization is in its first steps. Very few certificates have been issued so far…/ibna/