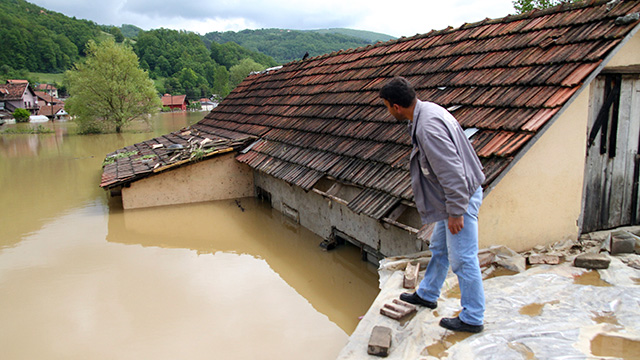 By Milos Mitrovic – Belgrade
Serbian prime minister Aleksandar Vucic said that 27 people have died in floods that affect the country since last Friday, including 10 or 11 persons which have passed away of natural causes. "As you can see, it's an enormous number, but there will be no thousands or hundreds of casualties", Vucic said today at the media conference rebuffing once again claims that suggest a much larger scale of disaster, regarding lost lives.
Vucic added, however, that the exact number of casualties was still undetermined. "The pathologists are to determine it". "We have found people running away in a jeep… They thought they could avoid the water, but only one man survived", the prime minister explained.
The reconstruction of the country and repairing the damage, according to Vucic, will be conducted in four phases: the recovery of the electric power system, reconstruction of the roads, houses and other buildings renovation and "creating the economy growth and recovery of the overall economic energy, which is essential".
The energy sector has suffered the greatest damage, Vucic said refraining to specify the damage in total. Nonetheless, he claimed that the cost of the catastrophe would excess several hundred million EUR, with more than 200 million in the energy sector.
On Tuesday, Transport minister Zorana Mihajlovic said that 3,000 kilometers of roads are destroyed and the Belgrade – Bar (Montenegro) railway is out of order.
Vucic announced that the reconstruction of houses would start urgently, and the completely destroyed houses would be the priority. He said this should be hopefully finished in two or three months.
Prime minister reiterated there was no "serious" damage assessment and condemned the estimates by heads of flooded municipalities. According to Vucic, local leaders strive to compensate "all their financial loses and minuses using the money of the country and citizens. We are not going to pay for incompetence".
Belgrade "Blic" daily reports that "such disastrous floods maybe could not have been prevented, but there are growing indications that people in Obrenovac could have been evacuated sooner". Obrenovac, 40 kilometers west from Belgrade, is the most affected by the disaster with more than 13,000 evacuated citizens. According to website nestali.rs, more than 300 persons are still missing, most of them from Obrenovac.
"Four days before Kolubara river flooded Valjevo and Obrenovac… Hydro-meteorological early warning service warned on floods", "Blic" reports.
"We did our job properly. I believe that system has worked, but the scale of floods was so big that our installations could not contain them", coordinator of Hydro-meteorological early warning system Dejan Vladnikovic told "Blic".