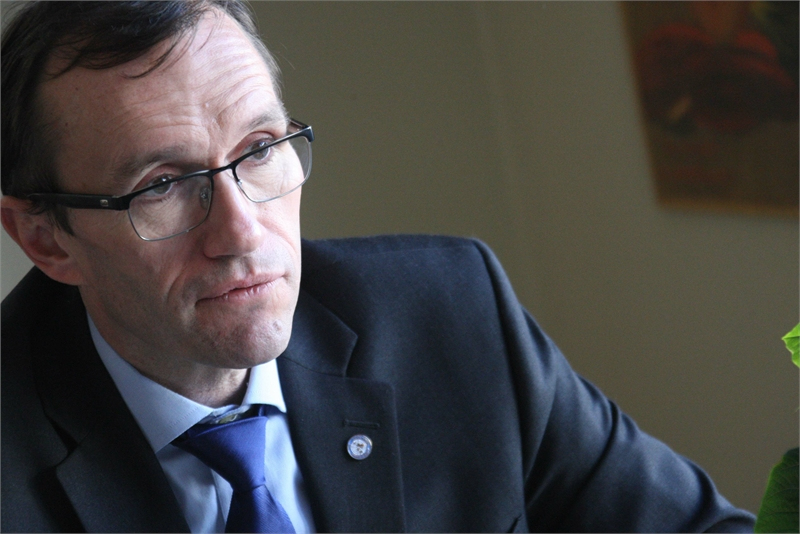 London, January 16, 2015/ Independent Balkan News Agency
By Thanasis Gavos
Having just concluded another round of meetings with the leaders in Cyprus, the UN Secretary-General's Special Adviser Espen Barth Eide (photo) flew to London for a meeting on Thursday afternoon with Minister for Europe David Lidington, in order to update him on the latest impasse over the negotiations and to exchange views.
"A routine follow up meeting, following Mr Eide's discussions with President Anastasiades and Dervis Eroglu," was how diplomats described the Foreign Office talks, pointing to the fact that in the period of less than two months since Mr Lidington paid an official visit to Cyprus a lot has gone on.
The latest episode in the Cyprus saga that concentrated the minds of Messrs Eide and Lidington was the new NAVTEX issued by Turkey, reserving areas within the Exclusive Economic Zone of the Republic of Cyprus for yet another round of seismic surveys.
The Norwegian UN official gave Mr Lidington his assessment of the situation on the island, recognising that as things stand the resumption of negotiations seems unlikely; that was even before the outburst by President Anastasiades against the UN Secretary-General report for the renewal of UNFICYP's mandate, which basically omits Turkey's violations of the international law regarding Cyprus.
David Lidington took to Twitter to say he was glad to welcome the UN diplomat to the Foreign Office to talk about his work to secure a settlement in Cyprus. During the 40 minute meeting he reaffirmed London's support for Mr Eide's efforts to break the deadlock over the Cyprus issue.
The British government is well aware of the dissatisfaction in Nicosia with the UN stance against Turkish provocations in the country's EEZ, but it firmly sees Espen Barth Eide's role as the best bet to achieve progress towards a settlement.
A diplomatic source confirmed that the discussion in London was mainly focused on developments surrounding the exploitation of mineral resources in Cyprus's EEZ: "The meeting was held in the context of the recent development of the renewed Turkish NAVTEX."
After the meeting with David Lidington Mr Eide was quoted by a Turkish newspaper as saying that the ball is now in the Turkish Cypriot side's half, as the Cypriot government has now accepted to include the natural gas exploitation issue in the later stages of negotiations. Mr Eide had praised the positive stance of President Anastasiades following their meeting earlier in the week.
Still, the mood doesn't seem likely to change any time soon, barring a big surprise for the Turkish side.