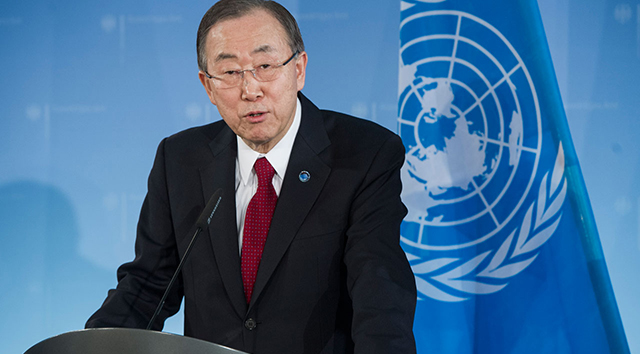 UN Secretary-General Ban Ki-moon has called on the leaders of the two communities in Cyprus "to reflect on the situation following the impasse they had reached and to carefully consider the next steps in order to bring the process back on track".
The UNSG, who held a telephone conversation on Wednesday with President of the Republic of Cyprus Nicos Anastasiades and Turkish Cypriot leader Mustafa Akınci, in the wake of the second round of the Cyprus negotiations that took place in Switzerland from 20 to 21 November, emphasized,  according to the UNSG`s Spokesperson, "that it was not uncommon for peace processes to be confronted with crises, particularly at the last difficult stretch".
"The Secretary-General encouraged Mr. Anastasiades and Mr. Akinci to rise above the mounting pressures and be courageous in overcoming the challenges", he said.
He added that the Secretary-General recalled the common determination and vision both leaders shared when he met them at the opening of the first round of the talks at Mont Pelerin, Switzerland on 7 November and he "encouraged Mr. Anastasiades and Mr. Akıncı to continue the negotiations and strive to achieve an agreement this year for the sake of future generations".
"The Secretary-General offered his good offices to assist in any way the two leaders wish in order to move the peace process forward" he concluded.
Cyprus, which joined the EU in 2004, has been divided since 1974, when Turkey invaded and occupied its northern third. President Anastasiades and Turkish Cypriot leader Mustafa Akinci are engaged in UN-led talks with an aim to reunify the country under a federal roof. In November, they held two separate sessions of talks in Switzerland, which did not produce results./IBNA
Source: Cyprus News Agency