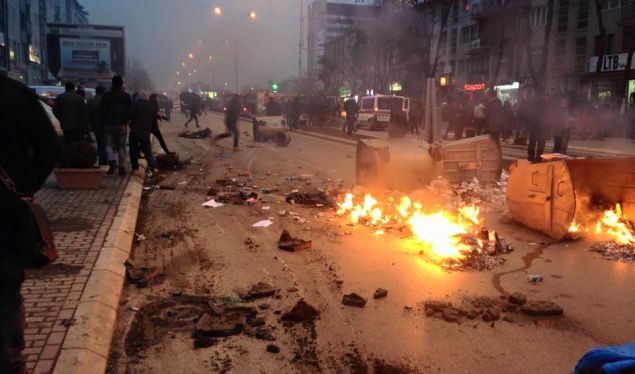 Pristina, January 27, 2015/ Independent Balkan News Agency
By Elton Tota
Unrest continues to rule in some of the streets of the capital, Pristina, but on the other hand, almost all the streets in the central part of the city are controlled by police forces. Night in Pristina seems scary.
During today's protest, there have been tens of wounded police officers and hundreds of wounded citizens.
Police Commissioner, Shpend Maxhuni said that 56 police officers remained wounded during the protest and two of them are in a critical situation.
He said that police's mission is not to hurt the citizens, but to intervene in compliance with their duty.
"So far, over 100 people have been arrested", said he, adding that police will react based on its lawful duty to guarantee law and order.
PM Isa Mustafa and deputy PM, Hashim Thaci, appeared in a news conference and expressed their regret about the escalation of today's protest organized by the opposition, considering it as violent and politically motivated.
PM Isa Mustafa condemned the violence shown against public and private property and against state institutions. He also thanked Police of Kosovo for doing their job in protecting the institutions.
"The protest was used for political purposes and this causes ethnic divisions. The government was attacked with strong objects, while police and their vehicles were attacked with Molotov bombs. Public properties were attacked, while protesters were used for political interests of a small group of individuals", said Mustafa.
Mustafa called on violence against police and social property to stop. Expressing his regret about what had happened today, he thanked police for their maturity.
Deputy PM of Kosovo, Hashim Thaci said that he supports PM Mustafa.
He said that the opposition is trying to take power through the use of violence. Thaci has not mentioned minister Jablanovic and the declarations that caused the protest.
"The protest is a civil right, but today's protest had political objectives. The protest has not been organized by the citizens, but by three opposition parties. Dialogue must take place in parliament. We will not surrender to violence", said Thaci. /ibna/