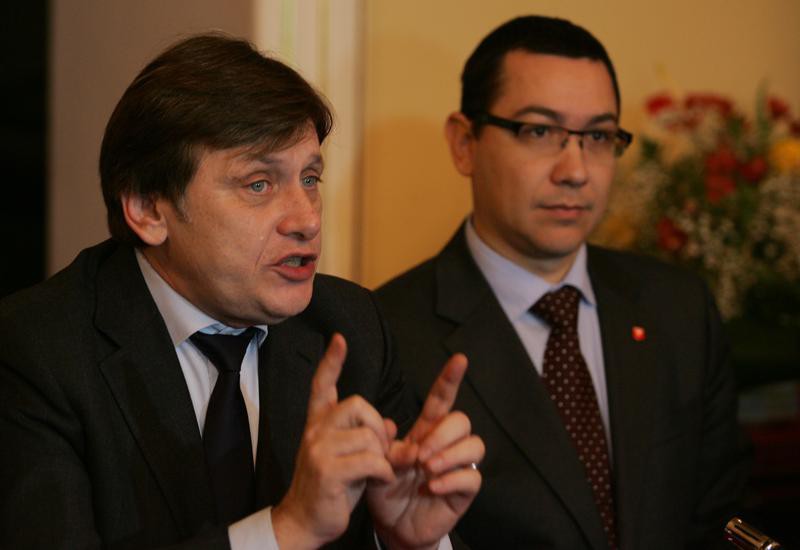 Review by Christos T. Panagopoulos –
Co-presidents of the Social Liberal Union (USL, at rule) Victor Ponta and Crin Antonescu reaffirmed, on Sunday night, in a telephone intervention for R TV, the unity of the Union and of Antonescu-Ponta tandem.
Asked how he sees the assertions made by Traian Basescu and Elena Udrea, according to which Antonescu is just ripe to be voted by the right wing forces, in case he reaches the presidential's run-off next year, Ponta replied: "I'd say let them give their support in the first round still, because I will also support him and this way we solve the problem", the Premier said.
At the same time, Victor Ponta added that he discussed with Crin Antonescu on Saturday, as well, and underlined he does this almost every day.
"We talk almost daily, do not pay attention to Mr.Basescu's media, namely that we have quarreled. There is no quarrel between us and, when it does come up, Mr. Basescu appears and we get back together again", said the Premier.
Crin Antonescu said, in turn, that statements by Traian Basescu and Elena Udrea about him, in the sense that the PNL leader could be backed up by the other center-right forces in the presidential elections is nothing but another attempt to break up the USL.
"Statements you are talking about, either of Mr. Basescu or of Mrs. Udrea, have their explanation from the standpoint of the political game, but they do not involve me . (…) I do not think there is a month since Mr. Basescu said that never, but never, I would run a chance for Romania's Presidency. Not even a month has passed since he said I am perfectly isolated externally. (…) Some people who for years and until recently say at my address and at the address of USL and of PNL the most crazy and slanderous things (…) it is very obvious to everyone that this is an attempt to force the breaking up of tge USL, to seek, to say so, some easily scared souls in PSD and more credulous ones in PNL", Crin Antonescu pointed out.
Source: Agerpres