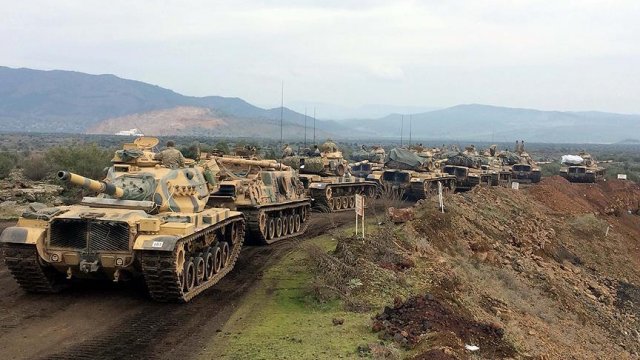 Erdogan insists and promises to reach Iraq
Despite the US President's recommendation to restrict operations in Syria, Turkish President, Recep Tayyip Erdogan, speaking to the Medical Association of Turkey, threatened to expand military operations in other cities in northern Syria.
Erdogan said that after his ongoing operation in Afrin, in northwest Syria, "Turkey will continue eastwards", and promised that "we will cleanse the city of Manbij, we will not leave any terrorists up to the Iraqi borders". Manbij is 100 km away from Afrin.
This statement of the Turkish president has made many heads to turn, as there are about 2000 US soldiers in Manbij.
Donald Trab, in a telephone conversation he had with Erdogan on Wednesday, had asked Ankara to avoid moves that could result in Turkish forces clashing with the U.S. forces in the area.
State Department spokeswoman, Heather Nauert, in a strict tone reiterated the US positions on the operations in Afrin.
We urge Turkey to proceed to a de-escalation. When we call on a country, especially a NATO ally, to escalate the situation, we hope that our concerns will be taken very seriously. I would describe the minutes of President Trump's telephone conversation with President Erdogan as very strict. The president urged Turkey to de-escalate and limit its military actions in this region, in order to avoid injuring civilians.
Washington basically asks Ankara to stop operations against the Kurdish YPG forces in Syria, which Ankara considers to be a terrorist organization and a branch of the PKK.
"We believe that everyone's attention must remain turned on the Islamic State and not be distracted by other things. We share Turkey's concerns about the PKK", Newark stressed.
On the war front, however, according to official figures, 14 dead and 140 injured are reported to be the casualties of the Turkish side on the 7th day of the military operation in Syria. Most of the victims are from the Free Syrian Army. Ankara claims that 243 members of the YPG and PYD have been killed./IBNA