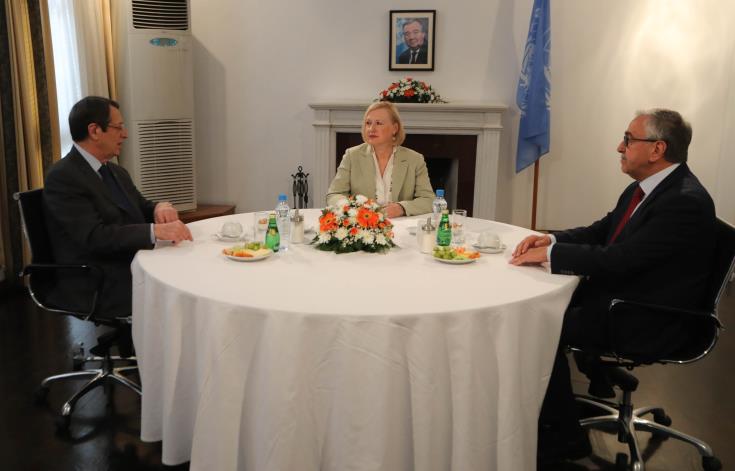 It is up to good faith and respect for the international and European law, the Cypriot President stated amongst others.
By Michalis Michael
The two leaders in Cyprus are expected to declare their readiness for a trilateral meeting with the UN Secretary-General after the UN's General Assembly, as the organization announced in a statement on behalf of the two leaders, after their meeting at House Špehar, at around 13:00.
The Communication states that the leaders had an honest and creative exchange of views and discussed in-depth principles, while deciding to firmly continue to engage in Jane Holl Lute's efforts for the terms of reference to be achieved, which would allow structured and outcome-focused negotiations to be held, that could lead to a solution, with a sense of urgency.
It is noted that the two leaders have decided to announce their readiness for a trilateral meeting with the UN Secretary-General after the UN General Assembly in New York, so that their next steps can be planned. The UN Communication also notes that, regarding the CBMs, the two leaders welcomed the implementation of measures that had been decided in the recent past, and in particular that one measure of telephone interconnection, which would facilitate the two communities' greatest possible contact.
It is also added that the two leaders reaffirmed their commitment to intensify the technical committees' work, so that all Cypriots' daily lives can be improved, and so that more CBMs can be decided, with the UN's support.
Anastasiades: The environment is friendly, the disagreements are still there
Cypriot President Nicos Anastasiades made his own remarks about what happened during his meeting with Mustafa Akinci. After repeating the UN Communication's basic points, he underlined that the CBMs should not be symbolic but rather practical, and that they should address the core of the problems. Regarding Turkey's invasion in the EEZ, he stressed that it should be terminated, and that Ankara should engage positively in issues of significant relevance to the Cyprus issue, such as the guarantees.
"We have a positive climate, a common basis for talks; there are disagreements, but there is also agreement that no differences can be resolved without dialogue. Each side restated its position; it is now up to good faith and up to respecting the international and European law, in order for a State to be created, that would meet the conditions which other states respect on a federal structure", the Cypriot President commented.
Nicos Anastasiades highlighted that in his meeting with Mr. Akinci he brought up both of the proposals he had made in the past regarding Famagusta, thus putting blame on what various officials in the occupational territory say and do./ibna