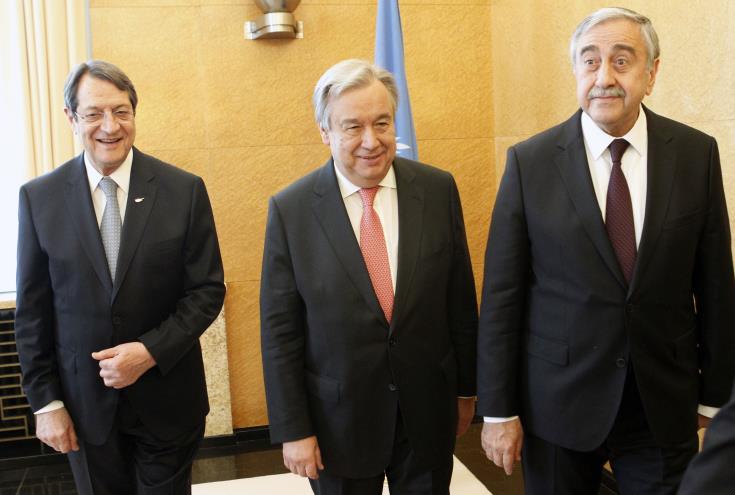 Everything that is happening and is being said by each side right now, regarding the conveyance of an informal meeting, is not enough, sources say.
By Michalis Michael
The United Nations' position is that there must be an agreement between the two leaders in Cyprus on how to proceed, before they address the UN Secretary-General, Antonio Guterres, a source told the Cypriot News Agency, when asked about the possibility of an informal meeting. The last thing the UN Secretary General said to the leaders at Crans Montana was that no one should stop hoping, or reflecting, and they should both address him again when they are ready with a plan on the where, when, and how they want to meet, in order to reach an agreement. He told them not to come back to him until they have completely agreed on how they want to proceed, the same source added.
The relevant source pointed out that all that is being done and is being said at the moment by each side, regarding the conveyance of an informal meeting, is not enough "because both of them still have their own terms, and that is not what the UN Secretary-General has asked. The Secretary-General asked for an agreement between them on the where, when, and how they will proceed. The first thing that must happen is for the leaders to meet, discuss, agree and then address the Secretary-General," the source said, estimating that so far each side sees the issue only from its own point of view.
When questioned whether it is better that the meeting be held in the presence of UN Secretary-General's special envoy, Jane Holl Lute, the same source said that it is up to the leaders to decide who will attend the meeting, stressing that Ms. Lute has discussed with both sides the possibility of an informal meeting, noting that the Turkish Cypriot leader, Mustafa Akinci, "spoke to Ms. Lute about his proposal for a five-day meeting".
Spehar informs the Security Council
Meanwhile, UN Special Representative and head of the UN peacekeeping force in Cyprus (UNFICYP), Elizabeth Spehar, is currently informing the United Nations Security Council, before which later this month the resolution on the renewal of the service of the UNFICYP will be tabled. Today's session concerns mainly UNFICYP, but the Council also wants to know what is happening with regard to the talks on the Cyprus problem, and that is why it will also discuss the current situation, the source said.
The Security Council meets at 3 o'clock in the afternoon New York Time (10 o'clock in the evening in Cyprus). After the session, statements will be made by Mrs Spehar and the President of the Council. However, the visit of the United Nations Under-Secretary-General for Peace Operations, Jean-Pierre Lacroix, to Cyprus next week will focus on the issue of the UNFICYP. In addition to the meetings he will have with President Anastasiades and Mr Akinci, Mr Lacroix will meet with organized civil society groups and visit the "dead zone"./ibna