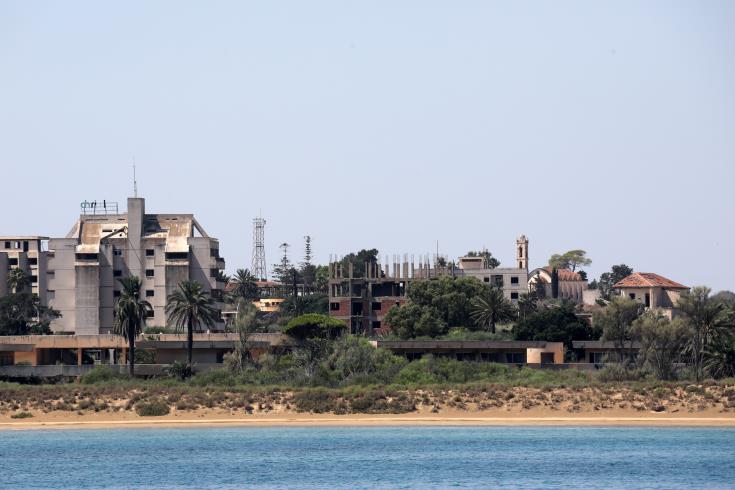 It was also reported that the United Nations "is monitoring the situation closely and continuously"
By Michael Michael
The United Nations, according to reports of CNA from the United States, will continue to be guided by relevant SA resolutions, said SG spokesman Stéphane Dujarric, adding that they take into account Resolution 550, which "considers any attempts for settlement in any part of the Varosha by people other than their inhabitants unacceptable".
He also said that the United Nations "is monitoring the situation closely and constantly", while claiming that "the UN has not received any official information on plans to open Varosha". CNA informed the spokesman of the remarks made by the Turkish Cypriot Foreign Minister Mevlut Cavusoglu last Thursday that Varosha would be opened, and asked him if he was concerned, with regard to his statements, two days prior, on the integration of the West Bank, whether there is something similar for the Turkish statements on Varosha.
"I'll leave the comparisons of different cases to you. We will examine each case separately. The issue you mentioned about Cyprus is obviously important and sensitive in the context of the Cyprus issue". Asked whether he meant Turkey when he said the United Nations had not been officially informed, Mr Dujarric insisted that "we did not receive any official information on the matter".
He said the same when he was reminded of the letter sent to the Secretary General on June 26 by President Nicos Anastasiades and the reply of Antonio Guterres to the President of the Republic. In the response letter on July 7, Mr Guterres assured President Anastasiades that "the UN position remains unchanged. The UN continues to be guided by relevant SA resolutions and is available to assist with any measures consistent with these resolutions"./ibna