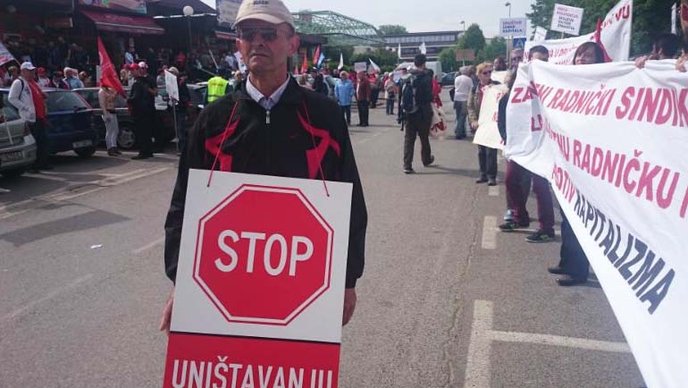 Zagreb, May 1, 2015/ Independent Balkan News Agency
By Marija Avramovic
At the protest rally "For the salvation of the industry and the jobs", which was held on Labor Day in Sisak, a former symbol of Croatian industry, leaders from five trade union associations called on the authorities to save what was left of the industry.
This year Croatia has welcomed the International Workers' Day, which is celebrated around the world for 125 years, hoping that it would finally come out from a long, seven-year recession.
The protest march in Sisak which was attended by about 1,500 people, who arrived from Bjelovar, Zagreb, Krapina, Slavonski Brod,  when they were addressed by trade unionists at the square of Ban Jelacic.
Instead of  Zagreb, Unions organized the central gathering in Sisak, a city that in recent years has become a symbol of the decline of the economy and loss of jobs, the city in which since the beginning of the Homeland War 30,000 jobs vanished.
President of the Association of Independent Unions, Mladen Novosel urged authorities to rescue the remaining industries and finally go on from words to deeds, suggesting that the merger of agriculture and industries could create jobs, potential GDP growth, get the country out of the crisis and provide a decent life for everyone of their own work.
Miroslav Brajenović from the Union of oil industry said that after the failed privatization the whirlwind of devastation affected Sisak.
Because of the threats of collapse of the only two remaining companies, Sisak Refinery and Petrokemija from Kutina, Brajenović called for their immediate modernization.
"I thought that I have experienced the biggest fear in my life during the war, but believe me, fear of privatization of Petrokemija is much bigger for me. However, today it is a sin to be against privatization. Therefore, we can fight for our demands only with actions", Željko Klaus, commissioner of the Petrokemija's Trade Union noted.
Croatia had significant experience of workers' self-management of whom are left only memories of better days, and although the workers' participation is still legal, for it to be achieved it will take some new power and a lot of fighting, experts say.