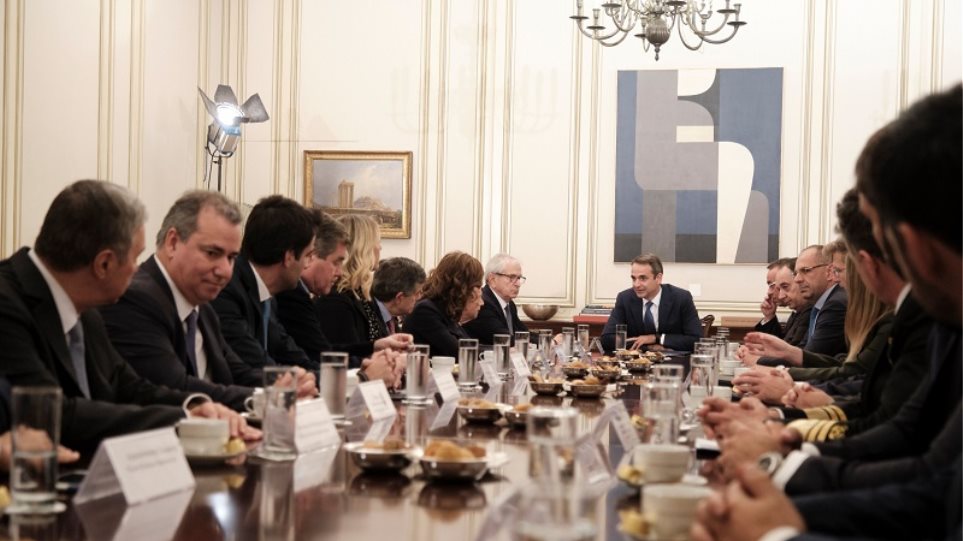 Greek Prime Minister Kyriakos Mitsotakis met at the Maximos Mansion with a delegation of the Union  of Greek Shipowners (UGS). The purpose of the meeting was for the Greek Shipowners' Social Welfare Company "Syn-Enosis" to donate, at the Prime Minister's initiative, 10 Rafnar 1100 Cabin Bulletproof high-speed crafts to the Coast Guard in order to substantially enhance its patrols, in the context of the government's planning for more effective control of the country's maritime borders.
At the start of the meeting, the Prime Minister made the following statement:
"Mr. President, ladies and gentlemen, I would like on behalf of the Government to thank you for your prompt response to our request to strengthen the Coast Guard. This donation of 10 new crafts will substantially enhance our efforts to control our maritime borders more effectively. At a time when, needless to say, it is extremely critical. These boats, from what I have been informed, will be the most modern equipment the Port Authority will possess; fully equipped, with thermal cameras and capable of responding to the most adverse conditions. Again, I would like to say a big thank you; I wish this initiative of yours to influence others in acting the same way; besides all of you, collectively as a Union and individually, are a continuation of one of our country's great traditions of giving , from people who are particularly distinguished in the business sector".
During the meeting, in the presence of the Prime Minister, the relevant agreement was signed with the Minister of Finance, Christos Staikouras and the Minister of Maritime Affairs and Insular Policy, Giannis Plakiotakis, for the concession of the new high-speed crafts.
The first five vessels will be delivered by the summer of 2020 and the next five in the first quarter of 2021. They will comprise the most modern equipment of the Coast Guard, with full equipment and the ability to sail in adverse weather conditions.
Also present at the government meeting were Minister of State George Gerapetritis, the Deputy Minister to the Prime Minister for Government Coordination Akis Skertsos, as well as the Head of the Coast Guard, Vice Admiral Theodoros Kliaris.
The Shipowners' Union delegation consisted of the President Theodoros Veniamis as well as George Angelopoulos, Achilleas Konstantakopoulos, Nikolaos Laimos, Athanasios Martinos, Konstantinos Martinos, Antonios Papadimitriou, Vasilis Pateras, Melina Travlou and Marietta Chandris.
The new vessels are designed according to an Icelandic model and will be built in Greece. These are special expeditionary cruisers that can serve a wide range of Greek Coast Guard needs. The high-speed crafts, with a total power of 900 hp, will develop a top speed of 56 knots. The design of the boat makes it self-reversible, all-weather and unsinkable. The gadgets included are, among other things, thermal cameras, anti-ballistic protection in the cabin and windows, while their interior can also be transformed for the transportation of patients and injured. /ibna