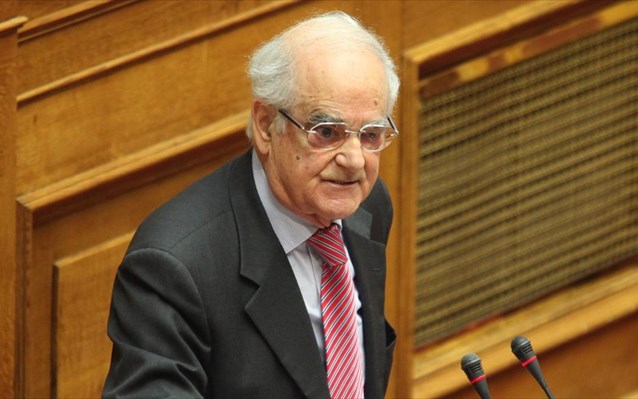 Athens, May 28, 2015/ Independent Balkan News Agency
By Spiros Sideris
Initiative under the name "Unification Movement" to integrate the fragmented space of the Democratic Movement has taken the former House Speaker Apostolos Kaklamanis.
In this context, Kaklamanis organized in recent days in Argiroupoli a meeting among members of PASOK, the KIDISO and the wider democratic progressive space, in order to "find reconciliation and understanding among those who follow the two party formations (PASOK and KIDISO) and those who have remained unaligned".
Referring to the "Unification Movement", the former chairman of the House said: "We are not a new party. We all must, for the sake of unity and catharsis of our ideological space, to take a step back. The "new" parties are the work of interests which are successors to those that fragment our democratic faction to 8-9 parties in the 1950. We want to bring together again the forces of our faction and not to allow them to remain scattered, which serves vanities or other self-interest of people and interests unrelated to the national and popular ones".
He also attacked the banking-editorial business cluster, which, he said, controls the media and manipulates the public opinion. Kaklamanis spoke of interests, which appoint and dismiss "leaders", not only in PASOK, but also in other parties, insisting on his part on the need for national unity. "The national unity", Kaklamanis added, "that our people deperetaly seeks, such as the democratic unity of our political space, as well as the cleansing and democratic functioning of the entire party system is not going to occur from above, from "leaders" and "petty leaders" but from below, with the democratic organization of the Greeks", according to each one's ideological views.
According to the former president of Parliament, "for five years, the country pays the fake resistance of Samaras, Kammenos, Tsipras, etc., in the imperative need for National Unity and Struggle against Economic War, which Greece is faced with from the outbreak of the economic crisis so far.
From bad to worse, we have arrived on the verge of complete internal collapse and national disaster. At last, our national blindness should be terminated. This faction, as in all difficult times, must do its duty. Unity and reconstruction are necessary conditions to carry out this national task".