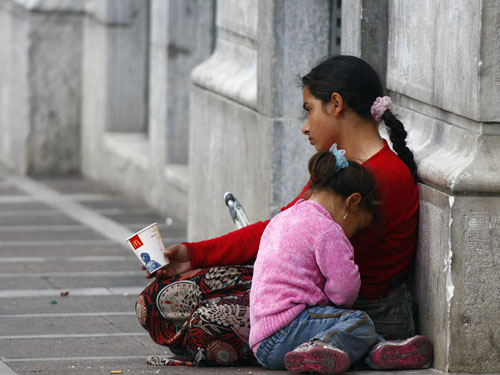 By Mladen Dragojlovic – Banja Luka
More than 2,000 children are employed every day as beggars on the streets of the cities of Bosnia and Herzegovina, a number UNICEF considers to be alarming.
UNICEF research on the streets of Banja Luka, Sarajevo, Mostar and Tuzla included children 7 to 18 years old and researchers spoke directly with 372 of them. 184 interviews with these underaged workers were taken in Sarajevo, 90 in Tuzla, 70 in Mostar and 28 in Banja Luka. UNICEF expert, Ruth Rosenberg, who made this analysis, said that, during research, they had several meetings with Roma families in these cities.
"We estimate that the number of children, aged between seven and ten years, who work on the streets of Sarajevo on a daily basis is 638, In Mostar 182, in Tuzla 192 and 62 in Banja Luka. They are exposed to various risks and abuse, such as lack of education, hard weather conditions, possible traffic accidents and other types of abuse. Undoubtedly, they live in poverty, said Rosenberg on the presentation of research results in Sarajevo.
Research results also show that more than 28 percent of the children in the target group hadn't eaten adequately in the day when they were interviewed. Moreover, between 40 and 54 percent of children in the targeted cities, during some period they experienced 24 hours without food. During meetings with UNICEF representatives, most of the Roma families said that the food is their biggest concern.
"The Majority of children work on the streets to provide food for their families. Although they said that no one push them to do it, they said that there is always someone who cares about them or control them on the streets. Usually, these are the parents of the children, who in most cases take their earnings. So, even we can consider children working on the street as human trafficking, in a number of cases we can say that it is parental abuse or neglect, emphasized Rosenberg.
Head of UNICEF mission in BiH, Ayman Abulaban, said on the presentation that children's rights in this state are violated in various manners.
"UNICEF and governments in BiH must do everything to protect rights of the children in country. Unfortunately, children who are working on the streets are exposed to various types of abuse on a daily basis. Often, they are hungry and they are exploited in economic, physical and sexual ways. They don't have the opportunity for education, rest and recreation", said Abulaban.
He added that BiH has laws, which protect children in this kind of situations, but the problem is that those laws are not implemented.