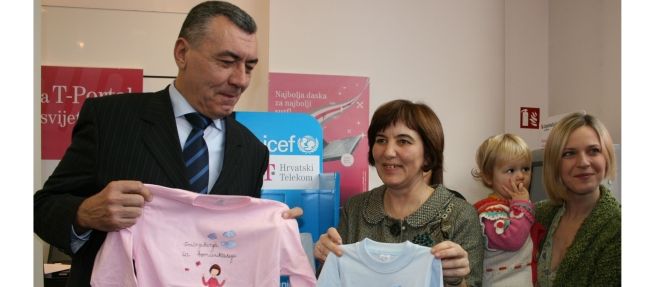 By Natasa Radic – Zagreb
Every seventh parent in Croatia in the past week has hit his or hers one year old child. At the same time, more than half of parents read children's books to their children on the daily basis. Only five percent of them has not read even once in the previous week, nor painted, or sang to the chils – according to a survey conducted by UNICEF entitled "How the parents and the community care for children of the youngest age". In this survey 1.700 parents of preschool children participted. The first such comprehensive study was led by Dr. Ninoslava Pecnik of the Department of Social Work from the Faculty of Law in Zagreb.
Dr. Ninoslava Pecnik explains that children until the agee of three are most exposed to physical punishment, regardless of the socio-economic and educational status of their parents. Head of the research says that parents should be provided with additional support when children reach three years of age and when they all behave alike.
Two-thirds of parents surveyed admitted that they need help to prevent themselves from punishing their children because of their own dissatisfaction and exhaustion, while one in five respondents admitted that he or she would welcome the expert's help in resolving the problems with alcohol or dealing with psychological difficulties.
UNICEF research has shown that 66 percent of mothers of young children are still fully absorbed with the majority of childcare and housework, and they do these duties after their regular work. Among parents who claim to equally share duties of home and children, there were 32 per cent of mothers and 50 percent of fathers. They also answered the question what would help them the most in the daily care for the child, saying those would be higher wages, cheaper supplies for children, more stable job and lower interest rates on loans. Due to the economic crisis, the answers are expected.
Photo UNICEF Hr