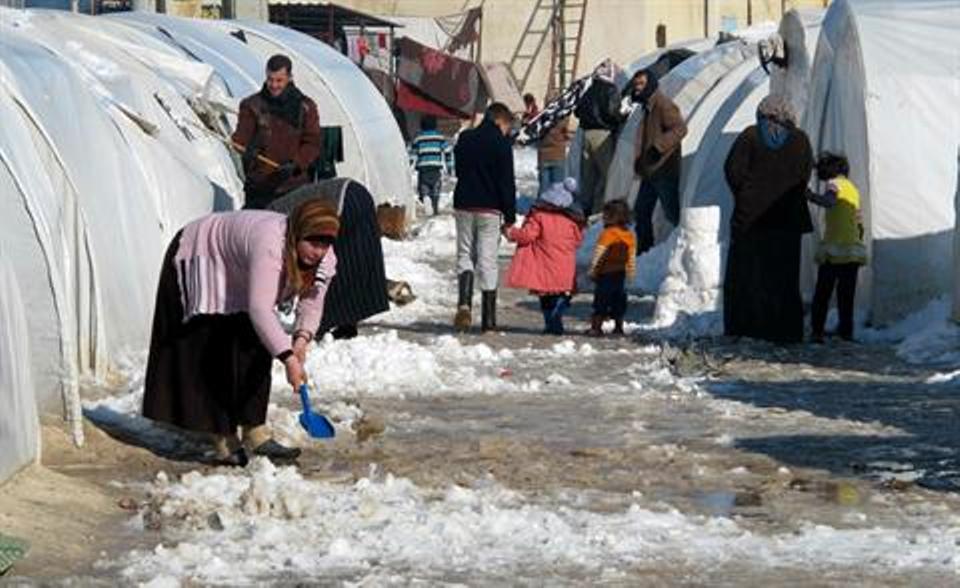 The UNHCR, the UN Refugee Agency, is reiterating its call to accelerate the moving of asylum-seekers from the Aegean islands to the Greek mainland states the announcement. The Agency states that "even with recent efforts to improve matters, conditions at many sites on the islands remain very poor."
The drop in temperature over the past few days has meant that there is heightened concern for particular sites especially on the islands.
According to UNHCR the situation on Samos, Chios and Lesvos is of particular concern.  On Samos, "around 700 people including young children and other vulnerable individuals remain in unheated tents" states the UN Refugee Agency while  on Chios, at the Souda site, they have been working to install electric heaters "in every accommodation unit and are sending more relief items to help people face the winter conditions" and on Lesvos, adds the UNHCR "two heated Rubb halls have been set up at Moria to increase warm space, and another is on the north shoreline".
However the announcement states that on the mainland, the challenges are diminishing. Over the Christmas and New Year period UNHCR completed the winter preparation work for all the sites assigned to them by the Greek authorities. In total UNHCR has created 21,000 accommodation places in apartments, with host families, or in other buildings. Some 700 places have been found for unaccompanied children in dedicated structures.
Compared to Turkey's humanitarian aid activities towards Syria, the European Union is inadequate
According to the UNHCR's figures as of September 2016, more than 87% of the 5.5 million Syrians who have left the country since 2011 have lived in neighboring countries (Turkey, Lebanon, Jordan, Iraq, Egypt) ..It is estimated that the number of those going to countries such as USA, Canada, Australia is about 800 Thousand-1 million,
Turkey has hosted alone more than 50 per cent of the 5.5 million Syrian people who have been forced to flee their country.
Considering about 3 million refugees in Turkey, it accounts for %4 of the Turkey population, %25 of the population in Lebanon and %10 in Jordan, while the proportion of the Syrians in the EU of 508 million is "19 per thousand"
Turkey, which spends 12 billion dollars, has spent nearly 500 million dollars from foreign sources, and Turkey with this efforthas spent the most on humanitarian aid is in the third position. On the other hand, when it comes to per capita income, is in the first position
The EU, on the other hand, holds 31 percent of the world's GNP alone with $ 16.8 trillion, despite this wealth and refinement, the most serious objection to refugees is also in the EU.
Meanwhile the UNHCR reminds EU countries of the continued, urgent need to help resolve the situation in Greece through relocations of asylum-seekers to other Member States. As of 4th January, only 7,760 asylum seekers had left Greece or were scheduled to leave under the EU Relocation Mechanism agreed in late 2015 to relocate within 2 years according to UNHCR figures. This represents around 12 per cent of the 66,400 agreed last year and is, according to the UN Refugee Agency unacceptably low./ΙΒΝΑ