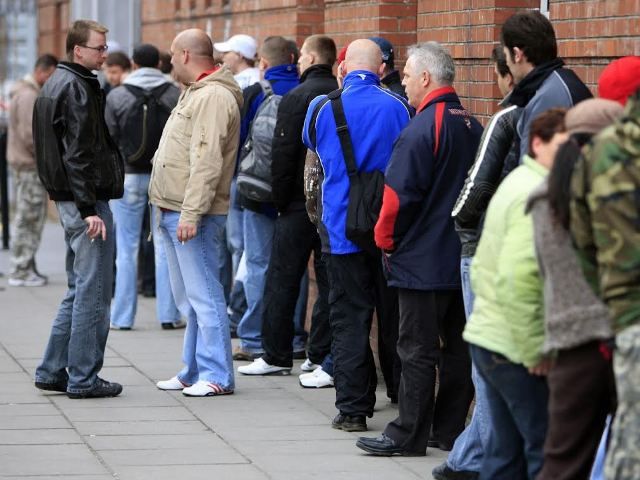 Skopje, 28 May 2015/Independent Balkan News Agency
By Naser Pajaziti
Unemployment rate in FYROM is growing due to the political crisis and latest tension which is being reflected in the aspect of stability.
Government official figures say that unemployment is at 27,6%, while Euro Barometer reports and other international reports talk about a 30% unemployment rate.
The government led by VMRO-DPMNE says that it has created a significant number of jobs during its 8 years in office.
"Starting from 2007, the government has taken  serious measures to tackle unemployment. The fact that from 2007 until 2017, 36.500 jobs have been created, which are good figures for a country like Macedonia, shows that our measures to address unemployment have been efficient", declared the minister of State Administration, Dime Spasov.
This month, the government has launched a fresh campaign to create jobs.
Based on the government plan, the employments will be made in the private sector and that private companies that will employ these people will be exempt from taxes and all health and pension contributions will be paid by the state for a period from 3 to 5 years.
"This project is expected to boost the interest of companies to recruit more people. This project is expected to employ around 10 thousand people", declared the minister of State Administration, Dime Spasov.
Where is the highest unemployment?
The commune of Tetovo in the west of the country has the highest rate of unemployment, exceeding even Skopje, bearing in mind the population in it.
According to the statistics of the Agency of Employment, in March of this year, Skopje has registered 21.529 jobless people, while Tetovo registered 13.576 jobless people. These cities are followed by Kumanovo with 11.212 jobless people, Prilep with 9817, Manastir with 7636 and Gostivar with 7074. Tetovo is considered as a commune with many developed private businesses, but it lacks great business capacities and production plants.
"The majority of companies in Tetovo opened after 1990 and they are mainly small businesses, which offer modest employment. This shows that here we have great unemployment and that the majority of people leave abroad, not having a clear perspective here", declared for IBNA the representative of the private agency for the support of small and medium sized companies in Tetovo, Nebi Jusufi. According to him, FYROM has constant political crises and other problems such as the lack of stimulation to open new businesses, lack of projects to support businesses and the frequent amendments of laws have a negative effect in the creation of new businesses.
Unemployment categories
Based on the professional formation, the largest number of jobless people in FYROM have no such formation. State Agency of Statistics says that 69 thousand jobless people have elementary education, 37 thousand have middle school education, 18 thousand have university education, 1008 have completed their master studies, while 31 of them have completed their PHD studies.
The highest level of unemployment exists among the age groups 18 to 37 years old, who actively look for a job.
Dona Kosturnova from the Youth Forum for Education NGO, says that every young person must wait on average five years to find a job.
"Many young people are disappointed by institutions and are discouraged to find a job, because their expectations do not meet the current situation of the market", declared Kosturnova.
Current political developments have raised concerns that could have an impact in the economic aspect. This concern has also been expressed by the governor of the Central Bank, Dimitar Bogov.
"If the crisis continues to escalate, companies will face difficulties. They will see a fall in production and incomes and they will also be obliged to reduce the number of employees. It will also be hard for them to borrow as they will face an increased interest rate", Bogov says. /ibna/