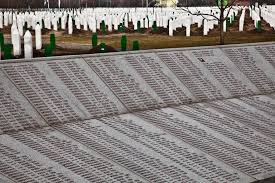 Belgrade, June 10, 2015/ Independent Balkan News Agency
By Milos Mitrovic
United Kingdom and some other countries are preparing resolution within the United Nations in order to mark 20 years of the Srebrenica massacre, Serbian media reported today. The details of the draft resolution are still unclear, but British Embassy in Serbia underlines the objective: to honor the victims and provide better future to Bosnia-Herzegovina.
But Serbian government expects from London to present it the text for the resolution.
"We hope that it (resolution) would honor the victims of the genocide in Srebrenica and all who have suffered on all sides during the war and that it would encourage the further steps towards the reconciliation and better future for Bosnia-Herzegovina", British Embassy in Serbia stressed. "This anniversary is the occasion for entire international community to learn a lesson from one of the saddest moments in the history of UN as well as to stress our firmness to engage on preventing genocide, crimes against humanity and war crimes".
According to some accounts, Netherlands and United States also take part in the initiative. July 11 would allegedly be declared as a Memory Day dedicated to 8,000 Muslim men and boys. Radio-Television of Serbia recalls that European Parliament has adopted similar act in 2009.
Serbian government waits for details from the Great Britain.
Foreign Minister Ivica Dacic says that Serbia is "opened for all debates". But he added that Serbia opposes to "misusing of crimes anniversaries for political objectives". Dacic emphasized that honoring the victims of any crime "is absolutely indisputable".
U.S. Ambassador to Serbia Michael Kirby said that Washington "does not lead the drafting of Srebrenica resolution". Kirby added, however, that "there is a need to find the way for remembering on what has happened".
"Srebrenica has happened, we cannot change that. We have to find the way to understand what has happened, to go further and to remember", Kirby told Tanjug news agency.