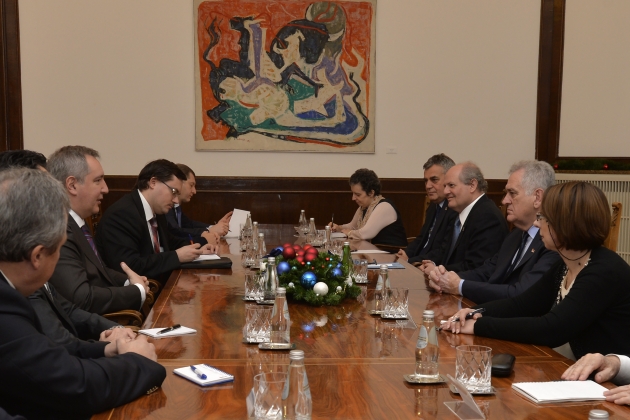 Belgrade, January 13, 2016/Independent Balkan News Agency
By Milos Mitrovic
Russian Deputy Prime Minister Dmitry Rogozin's meeting with Serbian far right opposition leader Vojislav Seselj, during his official visit to Belgrade, has provoked the reactions of top officials, including the undoubtedly pro-Russian President Tomislav Nikolic. "As the President of Serbia I never had a meetings with Russian opposition leaders while visiting Russia", Nikolic told Blic daily.
On Monday, Rogozin and Seselj mutually concluded that "the future of Serbia is in the East" which is contrary to the official Serbian position with accession to the European Union as its priority. During his four day stay in Belgrade, Rogozin was accommodated in villa used by former Serbian President Slobodan Milosevic. Russia granted asylum to Milosevic's widow Mirjana Markovic and son Marko Milosevic although Serbia had issued arrest warrants against them due to criminal offenses.
In the interview for Politika, Rogozin recalled his meetings with Milosevic with a sense of nostalgia, remembering NATO intervention against Serbia in 1999.
Although Rogozin discussed bilateral military cooperation with top Serbia officials, including Nikolic and Prime Minister Aleksandar Vucic, the results of the talks are unclear. Vucic said that Russian anti-ballistic missiles system S-300 is too expensive for Serbia, but stressed that Moscow offers Belgrade favorable conditions.
Rogozin however, gave him an S-300 model, as a gift.
Serbian Deputy Prime Minister Zorana Mihajlovic said that "everybody is free to go to visits anywhere and with anyone", commenting Rogozin's encounter with Seselj. At the same time, she noticed that Seselj symbolizes politics of "confrontations, regressing and opposing to EU and regulated system which is contrary to the politics of the government".
When asked about Rogozin's remark that Serbia could be faced with "another Cologne" because of its EU integration process, alluding to recent violence in German city, Mihajlovic said that the Russian politician "should take care of his country".
"And we will take care of our country", Mihajlovic concluded.
Photo: Rogozin and Nikolic at the meeting in Belgrade