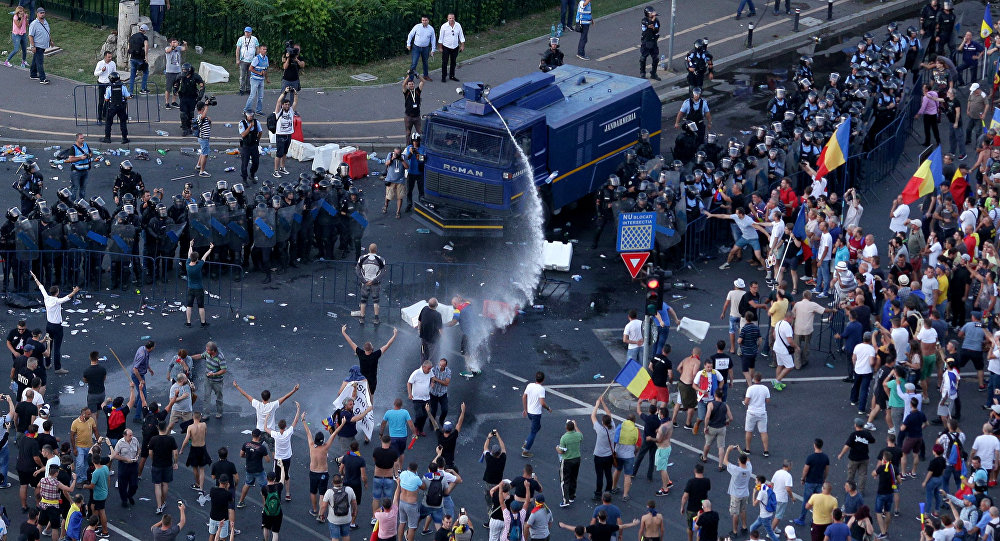 After going back to Israel, Israeli tourists who happened to be in downtown Bucharest last Friday during the protest, spoke to the press about getting beaten by Romanian riot police who made them get out of the taxi their had hired and although they showed them their passports proving they had nothing to do with the ongoing rally, police did not stop.
Channel 12, a TV channel in Israel as well as Romania G4Media.ro reported on the story which was confirmed by the Israeli Embassy in Bucharest on Monday. The Embassy said that "four Israeli tourists were beaten by law enforcement troops on Friday", romania-insider.com reads. "We consider this incident unacceptable and extremely serious. The Israeli tourists that were hurt following the brutal intervention press charges against the aggressors."
The Israeli tourists apparently are now added to the long list of cases of assault in Bucharest on Friday, August 10, 2018. Assaults by riot police against Romanian rioters (which would be understood to a certain extent), the crowd that participated in the protest and journalists who were there for the coverage of the story, both local and foreigners.
A camera operator of the Austrian public television operator ORF was beaten by the riot police in front the reporter he was working with, the Austrian Ernst Gelegs. The latter spoke to G4Media.ro saying that "He said that after the square was cleared, a group of gendarmes passed by them and assaulted them with no reason, although they shouted they were journalists and the camera operator had his camera with him", as romania-insider.ro reads quoting him.
Ruthlessly sprayed chemicals regardless of who was standing in front of riot police 
The violent incident caused the reaction of the Austrian chancellor Sebastian Kurz who wrote in a Twitter post: "Freedom of expression and freedom of the press are fundamental liberties of the European Union in which we believe and which must be defended unconditionally."
Moreover, romania-insider.ro adds that "A Romanian journalist from online publication Hotnews.ro was also assaulted by the gendarmes on Friday evening as he was reporting about the incidents around Victoriei Square. Dozens of other peaceful protesters were assaulted with no reason and video recordings of such incidents became viral in social media."
DW' Robert Schwartz who is currently in Bucharest for the network wrote an opinion-article saying: "The government's response was brutal. The police used tear gas, water cannon and truncheons indiscriminately because of scattered groups of hooligans and rioters who had mixed in with the peaceful demonstrators to create a provocation. These methods were used against families with children, against the elderly, against journalists. Against ordinary people who did not want to give up their hope of living once again in a functioning democracy in their homeland. And not somewhere abroad where they work or study. And where they live because they can no longer see any prospects in their native country."….. / IBNA