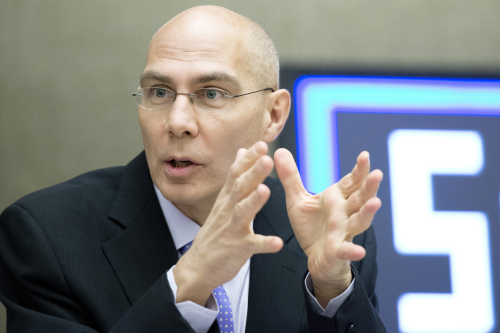 Athens, July 21, 2015/ Independent Balkan News Agency
By Spiros Sideris
Over 70,000 refugees have fled this year to Greece, a country whose asylum system has very limited capabilities and through which the refugees hope to reach Europe, a trend which is not going to stop soon, says Deputy UN High Commissioner for Refugees, the Austrian Volker Turk (photo) in an interview with the Austrian newspaper "Der Standard".
To many it is unclear what is happening and that a lot more people are going to come to Europe, because the root causes have not disappeared and the International Community does not yet have solutions, he said.
He explains that 85% of the refugees who flee to Greece come from Syria, Iraq, Somalia and Afghanistan, ie conflict zones and therefore it they are waves of refugees, not migrants – the so-called economic migrants – and this trend continues.
For example, he adds, in the case of Syria, it is now observed that those fleeing for Europe are people who had fled their homes because of the war and until now had waited in neighboring countries, where in the meantime live four million Syrians, but because there is no prospect of termination of the conflict they depart for Europe.
Volker Turk describes as extremely disappointing the erection of a fence at the Hungarian border with Serbia and stresses that the UNHCR asks, instead, to have binding quotas for the distribution of refugees in the European Union to alleviate countries that are its external borders, such as Greece.
In his view, there are no other solutions than the ones which are based on solidarity and trust, which are fundamental European values, ​​while at the same time, the discussion around quotas should strengthen the asylum system at European level, which needs creative solutions.
Deputy UN High Commissioner for Refugees believes that disputes have no place on the issue of asylum and that solutions can only be found through a sober approach, and as he says, according to Freud, the voice of reason is low-key.