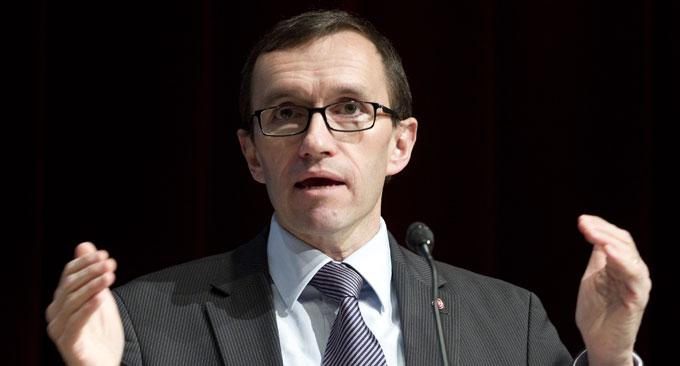 Nicosia, April 8, 2015/ Independent Balkan News Agency
By Kyriacos Kyriacou
The Greek Cypriot side on Wednesday strongly protested comments made by the United Nations Special Adviser on Cyprus Espen Barth Eide.
In an interview published earlier in the day by the Cyprus News Agency, Eide made two comments that have angered the Greek Cypriot side; one in which he said exclusive economic zones were not sovereign, and a second where he said of Cyprus: "It`s essentially contested what is the Cyprus problem. Is it a hijack state, or part of the country is occupied?"
In a written statement, Government Spokesman Nicos Christodoulides said the Republic had already made "very strict demarches", saying Eide's comments were "unacceptable".
"With regard to certain references by Mr Eide in his interview to the CNA, and more specifically that some states do not consider that the seismic explorations in the Exclusive Economic Zone of a state as a violation of the UN convention, as well as some other references…  about the legal status of the Republic of Cyprus, the government wishes to express its disappointment and to note that it considers those references as unfortunate and unacceptable and totally in contrast to international law and UN Security Council resolutions, as well as with the relevant UN conventions on the Law of the Sea."
The UN official's comments caused the strong reaction of the Greek Cypriot political parties.
The Norwegian diplomat announced on Tuesday in Nicosia, after separate meetings with Cyprus President Nicos Anastasiades and Turkish Cypriot leader Dervis Eroglu, the resumption of peace talks after the illegal elections in the northern Turkish occupied areas of the island.
Peace talks were suspended in October last year as Turkish vessel research Barbaros violated Cyprus` Exclusive Economic Zone and Ankara issued a NAVTEX, which reserved part of Cyprus` EEZ. NAVTEX was renewed in January 2015 and expired on April 6, 2015. Meanwhile Turkish vessel Barbaros has withdrawn from Cyprus` EEZ.
Anastasiades expressed today his determination to engage in a meaningful dialogue in the context of the talks to reunite Cyprus, with a view to reaching a solution as soon as possible. He said that since Turkey has stopped questioning the sovereignty of Cyprus and Turkish seismic exploration vessel "Barbaros" has left the Republic`s EEZ, he considers that the necessary conditions, for a possible resumption of the dialogue soon, are there.