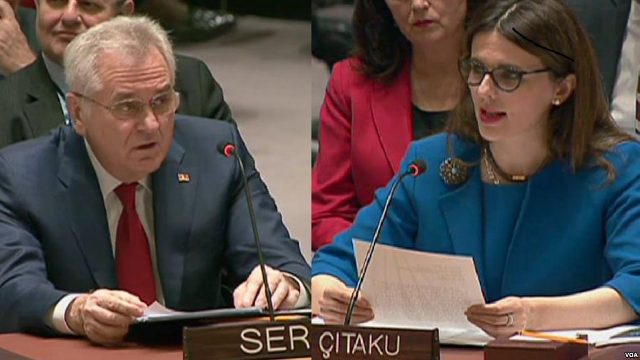 Representatives of Kosovo and Serbia have been engaged in debates in the meeting of the UN Security Council held yesterday in New York.
During the discussions on the quarterly report submitted by the UN Secretary General, Antonio Guterres, representatives of Pristina and Belgrade expressed their opposite views.
Kosovo's ambassador in the United States, Vlora Çitaku said that "Kosovo is a free and independent country, which has been recognized by the majority of the world countries".
Çitaku has also mentioned the arrest of Kosovo's former PM, Ramush Haradinaj in France, based on a request issued by Serbia. According to her, this is an attempt by Serbia to reverse history.
President of Serbia, Tomislav Nikolic, who participated in yesterday's session, said that Serbia will continue to lead a peaceful policy.
"In the dialogue between Belgrade and Pristina, Serbia is trying to find the path of the normalization of the situation", Nikolic said.
Referring to the case of the train which was stopped before entering Kosovo, Nikolic said that by sending police special units, Kosovo was making a direct threat to the lives of civilians.
Meanwhile, the US ambassador to the UN said that "Kosovo is a success story" and he stressed the importance of talks between Belgrade and Pristina and has demanded both sides to implement the agreements reached in Brussels.
On the other hand, Russia's representatives said that his country was against the change of mandate of the UN Mission in Kosovo.
He said that the creation of Kosovo's Armed Forces is against Resolution 1244 of the UN Security Council. /balkaneu.com/