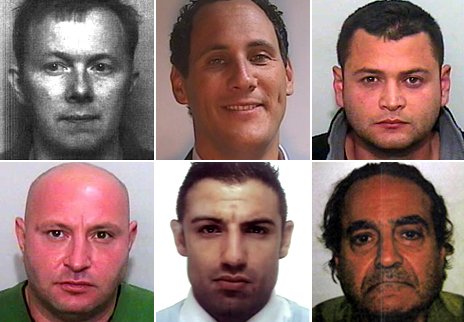 By Kyriacos Kyriacou – Nicosia
Rape, heroin trafficking and the setup of fraudulent travel agencies defrauding an estimated 20,000 people, by luring customers attracted by cut-price holidays, are some of the crimes the featured 11 individuals are wanted for by UK law enforcement agencies and are believed to be hiding in Cyprus. Other alleged crimes include a horse racing betting scam and various types of advanced fee fraud connected to the breeding of racehorses.
The suspects on the list are:
– Jeffrey Bloor, 41, from Brighton, who is wanted by Sussex Police, is accused of being involved in a horse racing betting and bloodstocks scam worth millions of pounds.
– Richard Ardolino, 38, from Leeds, is wanted by West Midlands Police on suspicion of being part of a gang that fraudulently applied for mortgages to buy houses in the UK.
– Turkish Cypriot Osman Aydeniz, 35, who was last known to be living in London, is wanted by the NCA on suspicion of conspiracy to supply class A drugs, conspiracy to commit theft and money laundering.
– Turk Ozgur Demir, 39, who was last known to be living in London, is also wanted as part of the same drugs conspiracy as Aydeniz.
– Ersin Mustafa, 38, from London, is wanted by City of London Police and the Financial Conduct Authority over allegations of insider dealing, worth around £2.5m.
– Christakis Philippou, 70, also known as Christakis Chrysostomou, is wanted by the Met Police after he was convicted of being involved in scams in which travel agency businesses were used to defraud 20,000 people.
– Martin Evans, 52, from Swansea, is wanted for drug dealing, theft and fraudulent trading.
– Timur Mehmet, 40, who was born in London, is wanted by Her Majesty's Revenue and Customs after being convicted in his absence and jailed for eight years for a £25m tax fraud.
– Hasan Akarcay, 57, is a Turkish Cypriot wanted by West Yorkshire Police after an associate of his was found transporting 27.5lb (12.5kg) of diamorphine, a drug similar to heroin, from London to Bradford.
– Costas Sampson, 23, is a Greek Cypriot wanted by the Met Police after being convicted in 2012 of the rape of a woman he met at a London nightclub two years earlier.
– Mehmet Salih, 42, a Turkish Cypriot, is wanted by Leicestershire Police on suspicion of dealing in cocaine between December 2010 and November 2011.
All 11 men have European arrest warrants issued against them.
Operation Zygos
The second Operation Zygos campaign aiming at tracking down the UK's most-wanted fugitives believed to be hiding in Cyprus was announced on Friday, during a press conference in the presence of British High Commissioner Matthew Kidd and the Deputy Chief of Police Andreas Kyriacou.
The operation is led by the UK crime-fighting charity Crimestoppers and the National Crime Agency (NCA) with the cooperation of Cyprus police. The second Operation Zygos campaign features six brand new appeals for fugitives, and the five remaining suspected criminals from the first campaign in 2012.
In his welcoming address, the British High Commissioner Matthew Kidd noted that the campaign highlights the continuing work between Crimestoppers, the NCA and the Cypriot Police Authorities (CYPOL). Crimestoppers and the NCA also work closely with the British High Commission in Nicosia as well as British and Cypriot law enforcement agencies.
On behalf of the Cyprus Police, the Deputy Chief of Police, Andreas Kyriacou said: "As Cyprus Police, taking into consideration the positive results of 'Operation Zygos', we wish to continue this co-operation because in this way we send a clear message that Cyprus, even though a hospitable country for lawful citizens, does not constitute in any way a safe destination for fugitive criminals. We must all contribute to achieve this goal, Police, media and citizens".