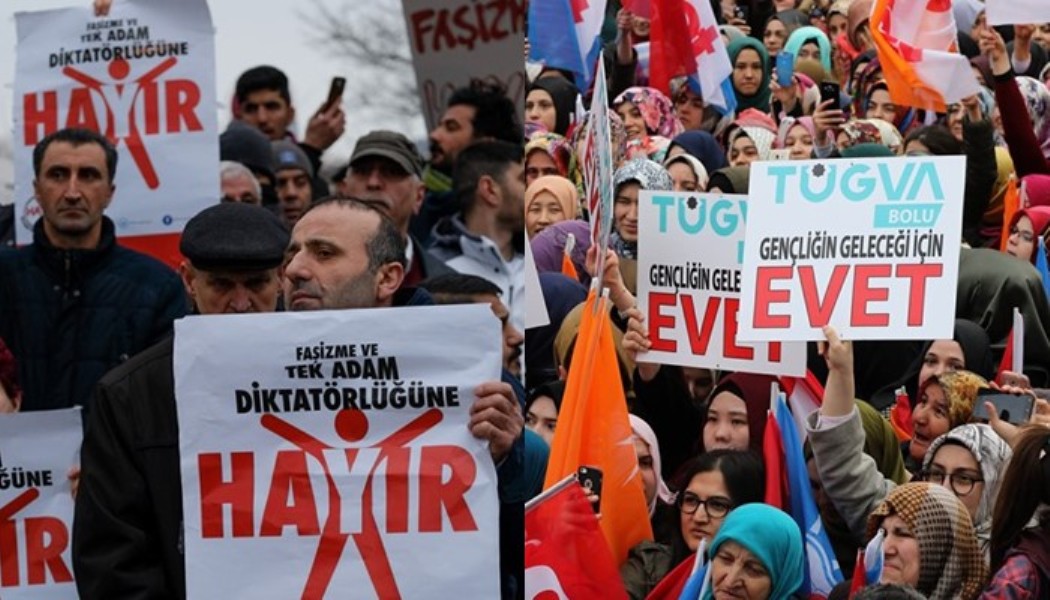 The UK press has reacted with headlines lamenting a divided and polarised Turkey after the historic constitutional referendum in the country, the result of which has granted President Erdogan the fulfilment of a "decade-long ambition", as one of the newspapers put it.
Given the vocal and unapologetic support that the UK government has given to the Turkish administration so far, with Theresa even flying to Ankara straight from Washington D.C. to meet with Recep Tayyip Erdogan, London's response to the referendum, the irregularities allegations and the consequences of the outcome was bound to be closely watched by observers.
In the end London didn't break ranks and nothing was heard of any congratulatory telephone call between Mr Erdogan and Mrs May. The British press criticised Donald Trump for offering his congratulations to the Turkish President, joined in his initiative only by the leaders of Qatar, Djibouti and Guinea.
In her rush to prove that she can secure good trading relationships for the post-Brexit era with countries outside the EU, Theresa May has been approaching regimes of dubious democratic credentials.
This is something that has been duly noted and criticised by the House of Commons Foreign Affairs Select Committee; however, the UK government has not moved one inch from the official position that Turkey is an overall crucial partner and ally.
"The way London diplomats and politicians have been 'guiding' Turkey on how to present its demand for the four EU fundamental freedoms to apply for its citizens in Cyprus is rather telling of the importance that this government attributes to good relations with Ankara, no matter what," a London based European diplomat told this agency.
However, on the specific issue of the referendum irregularities and what Mr Erdogan does next, the Foreign Office has been quite cautious. Reiterating that Turkey is "a close ally and friend of the UK" and that the two countries "have a range of shared interests", a spokeswoman told IBNA: "The referendum is an important moment for Turkey. Millions of Turks turned out to express their views and clearly it opens the way to significant changes in Turkey's system of government. What's important now is that Turkey enacts these constitutional changes in a way that sustains democracy, respects the rule of law and protects fundamental freedoms in line with its international commitments."
She added that the UK Government "has noted the OSCE's concerns about the process and encourages the Turkish government to take them seriously and follow their recommendations as well as relevant international commitments as they implement the constitutional changes."/IBNA