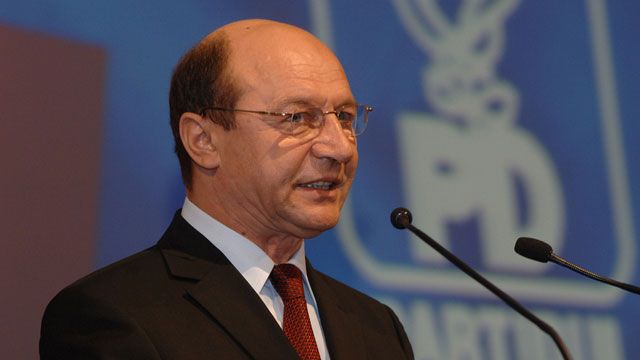 By Daniel Stroe – Bucharest
The Romanian President Traian Basescu last night warned a possible civil war in Ukraine would spread instability across the region and that would come with economic costs, but he shelved the prospect of a war in which at least Romania be involved, amid speculations concerning a call-up order for reservists.
"I repeat, there is no risk Romania will be engaged in a war (…) But Romania can be strongly affected by a situation of instability generated by a civil war in Ukraine. And this instability would materialize in the manner in which Romania could borrow from the external markets for its own needs. Let alone exports, imports and so forth. And the Russian Federation's responsibility in creating such a situation following Crimea's annexation is major" Basescu said in a public statement yesterday.
He also warned the recent unrest in Odessa, a city port just 150 kilometers away from Romania's borders, bear all the distinguishing of a civil war. "Unfortunately, in Eastern and Southern Ukraine, things are becoming more complicated and now there are all the elements that can identify in Ukraine the beginning of a civil war (…) The fact that conflicts erupted in Odessa, which lies at 150 kilometers from the Danube's Chilia channel, Romania's border, is an additional element which worries us, but doesn't surprise us. In the analyses I publicly presented I long ago told you one of the Russian Federation's objective is to expand its borders to the Danube's mouth" the Romanian president also pointed out.
He also lambasted prime-minister Victor Ponta for a series of comments the latter had made on the situation in Ukraine. While on a visit to a plane factory in Craiova, SW Romania, Ponta had said that "we are in for a war", but told the employees that the best part of it is they would get more orders. "I want to say to all the Romanians and partners, Romania doesn't have the feeling it would be attacked by the Russian Federation and there is no element that leads us to such a scenario and risk" Basescu said, reminding of the increased US military presence in Romania. "It is out of question Romania is attacked (…) so the remark we are in for a war is groundless" he added.
Ponta also said Romania is ready to defend the Republic of Moldova. "I want to inform the Romanians and Moldovans alike, along the Western chancelleries that Romania is not planning to defend the Republic of Moldova militarily" Basescu reacted yesterday, reminding that the Moldovan Constitution mentions the country's neutrality. "As long as we are a democratic country, we have to respect the constitutional status of a neighbor, even if this neighbor is the Republic of Moldova" he concluded.