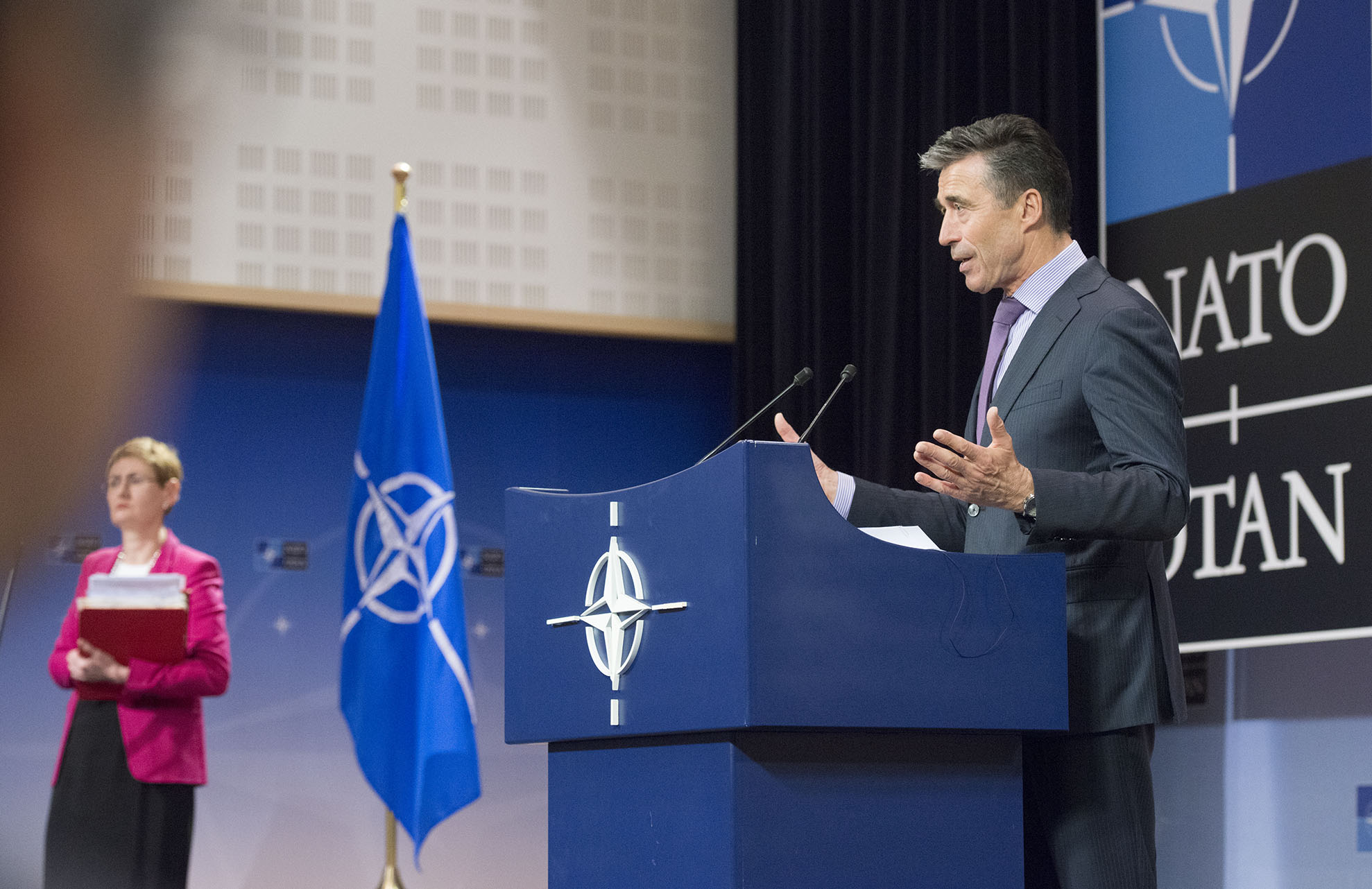 By Clive Leviev-Sawyer of the Sofia Globe
The visit to Bulgaria on April 10 and 11 2014 by Nato Secretary General Anders Fogh Rasmussen will be about much more than marking the 10thanniversary of the country's membership of the alliance or Rasmussen being awarded Bulgaria's highest honour, as talks are certain to be dominated by Nato's response to Russia's interventions in Ukraine.
Rasmussen is due to meet Bulgaria's prime minister, defence and foreign ministers and confer with President Rossen Plevneliev before the head of state awards him the Stara Planina first class, Bulgaria's highest state honour.
The Nato Secretary General arrives in Sofia after meetings in Prague on the morning of April 10 with Czech Republic president Miloš Zeman, prime minister Bohuslav Sobotka, foreign minister Lubomír Zaorálek, defence minister Martin Stropnický and other government officials. Rasmussen and Sobotka were scheduled to hold a joint news conference.
Both a member of Nato and of the European Union, Bulgaria, under its current Bulgarian Socialist Party cabinet, has shown scant genuine enthusiasm for a strong line against Russia over Ukraine and Moscow's illegal annexation of Ukraine. Statements from government officials have come across more as lip service than anything else, while senior EU diplomatic figures have been concerned by Sofia's reluctance about tough sanctions against Russia.
There also has been a divergence between Plevneliev, in office as head of state and commander-in-chief for more than two years after being elected on a centre-right ticket, and foreign minister Kristian Vigenin on the question of strengthening Nato's presence in Bulgaria in response to Russia's behaviour.
Against a background of Russia deploying many thousands of troops close to Ukraine's border and being accused by the United States of stirring up pro-Russian elements in Ukraine, Russia also has been sending reconnaissance flights close to Bulgaria's Black Sea airspace, necessitating additional response flights by Bulgarian Air Force MiG fighters.
But while Plevneliev called for stepping up Nato co-operation in response, in particular with Turkey and Romania, Vigenin said that there was no need for additional support or deployment of Nato forces in Bulgaria.
Vigenin also has announced that next week will see the completion of an analysis of the effects of economic sanctions against Russia on Bulgaria.
Local media said that Vigenin declined to comment on whether Bulgaria would oppose a third round of sanctions against Russia. "Our position is very cautious on possible sanctions," he said.
As to Rasmussen's visit, Vigenin said that the Bulgarian government would present to the Nato Secretary General its position on the situation in Ukraine and the steps that could be taken.
In Sofia, opponents of Rasmussen's visit – his last to Sofia as Nato Secretary General before Jens Stoltenberg succeeds him in that post on October 1 2014 – are to hold a protest at 5.30pm on April 10, saying that they do not want to accept orders from outside that could involve Bulgaria in a conflict against Russia which is not in Bulgaria's interest.
Speaking on April 8, Rasmussen said that events in Eastern Ukraine are of great concern and urged Russia to step back.
"Any further move into Eastern Ukraine would represent a serious escalation, rather than the de-escalation that we all seek. We call on Russia to pull back the tens of thousands of troops it has massed on Ukraine's borders, engage in a genuine dialogue with the Ukrainian authorities, and respect its international commitments," Rasmussen said.
The Secretary General said that the crisis raises serious questions for Euro-Atlantic security and now is the time for the right answers for key issues for the Wales Summit in September.
"We must prepare a readiness action plan. We must reinvest in our defence. And we must reinforce the transatlantic bond," he said.
Rasmussen said that Allies must stand ready at all times to deal with the unexpected.
"Because from Sevastopol to Syria and the Sahel, we are facing a dangerous world. Where threats are complex, unpredictable and interconnected. Newer challenges, such as terrorism, failed states, cyber and missile attacks. And old challenges in new guises, such as attempts to redraw borders by force," he said.
The Alliance must develop an action plan to strengthen readiness, and this requires the right training, the right posture, and the right capabilities.
The Secretary General highlighted the Nato Response Force as key element for an action plan.
"We have it, and we must use it. To do that, we should place parts of it at very high readiness. But this is not enough. We must review the readiness of all our forces," he said.
"We need to procure the high-end capabilities that we currently lack – joint intelligence, surveillance and reconnaissance; missile defence; air command and control; and air lift. Much work has already been done to fill these gaps. But we need to advance and expand our programmes."
The Nato Secretary General said that the bond between North America and Europe remains vital for the Alliance's shared security and must be reinforced.
"The current crisis poses a serious challenge to our common security. But North America and Europe stand together in facing up to it. And we stand united in our firm response. In recent weeks, we have seen the United States' clear commitment to Europe's security. From the Baltics to the Black Sea. France and other European Allies are complementing that effort. "
The Secretary General said that the European Council in December showed that European nations are prepared to step up.
"So I encourage all Allies to play their full part. This is the time to find a better balance of costs and responsibilities between Allies. Both between the United States and Europe. And among Allies within Europe," he said.
The Secretary General emphasised that a better TransAtlantic balance is also based on better co-operation between Nato and the European Union.
(Photo of Nato Secretary General Anders Fogh Rasmussen: Nato.int)