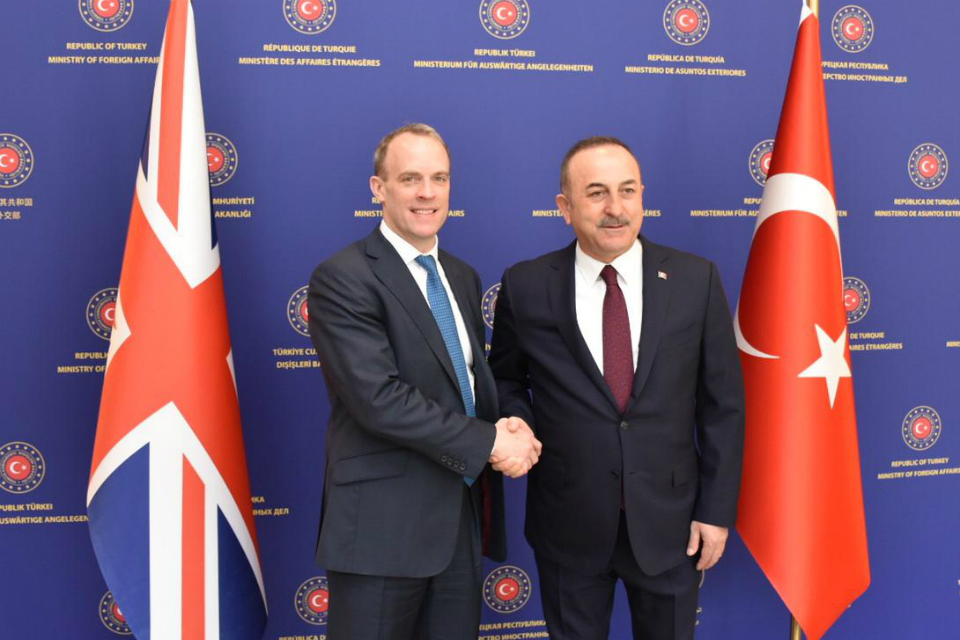 The British Foreign Secretary has fully backed Turkey in its actions in Syria following a meeting with his Turkish counterpart in Ankara.
Dominic Raab visited the Turkish capital on Tuesday and held a meeting and a joint press conference with Mevlut Cavusoglu.
He offered London's staunch support for Turkey's efforts to re-establish the ceasefire in Idlib, while condemning the Syrian regime's "monstrous" assault in the area.
"We are gravely concerned by the significant escalation in military action by Russia and the Syrian regime in the North West. We have condemned these actions as flagrant violations of international law and indeed basic human decency," said the UK Foreign Secretary.
He also paid tribute to Turkey's response to the humanitarian crisis in Syria.
Mr Raab also referred to the "recent issues" at Turkey's border with Greece, where, as he said, there has been a marked increase in migrants seeking transit into Europe.
"It is imperative that we work together with the international community on Idlib and in any response to a new wave of refugees and the movements of migrants, especially at Turkey's Western border.
"Once again, the root cause of this is the reckless and brutal nature of the Syrian regime and the Russian offensive in Idlib.
The Syria conflict has been one of the most destructive in recent human history and we want the war to end as quickly as possible," noted Dominic Raab.
He also said that his visit demonstrated the importance the UK Government attached to the relationship with Turkey and following examples with visits to other countries outside the EU, he added that post-Brexit "one of our priorities is to agree a Free Trade Agreement with Turkey during 2020"./ibna