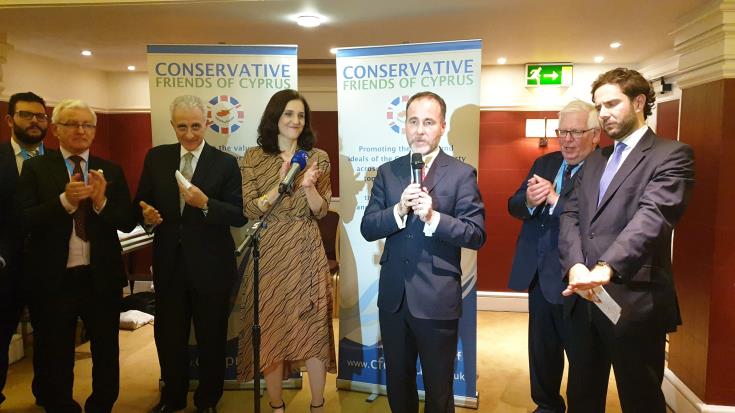 The recently appointed UK Minister for Europe Chris Pincher is due to pay a visit to Cyprus "in the next two to three weeks", with his primary focus being on reassuring Britons living there about their post-Brexit future.
He disclosed his travel plans during the annual 'Conservative Friends of Cyprus' reception on Sunday night, on the fringe of this year's Conservative Party conference  in Manchester.
Speaking to IBNA, Mr Pincher also pledged the Boris Johnson administration's support for the resumption of the Cyprus issue settlement talks under the auspices of the UN Secretary-General.
"Britain stands ready to help resolve what has been a very difficult, a very personally difficult, intractable situation over 40 to 45 years. We want to de-escalate the situation, we want to play our part in making sure that the issue is resolved. And you can be absolutely certain that the talks Alan Duncan, my predecessor, held a few years ago, are talks that we want to continue with both sides, to make sure that this terrible, intractable difficult issue is resolved," he said.
On his trip to Cyprus regarding Brexit Mr Pincher told IBNA that he welcomes the extension that the Cypriot government has provided to UK nationals to register as residents.
"(The visit) is to build bilateral friendships with friends and colleagues in Cyprus. We do a lot of trade with Cyprus, a lot of British people live in Cyprus, a lot of Cypriot people live in the UK; so our message is to make sure that when we have left the EU we look after these people who live in Cyprus.
"But also to make sure that Cypriots living in the UK feel comfortable and feel content. Because we are talking about real people here, people who live in Cyprus, who live in the UK. We've got to make sure that they feel they are happy with the decisions that shall be made by politicians in their name," stated the British Minister for Europe.
He added that the bilateral links need to be strong once the UK has left the EU and that means that the two countries will maintain and enhance trade, defence and cultural links./ibna