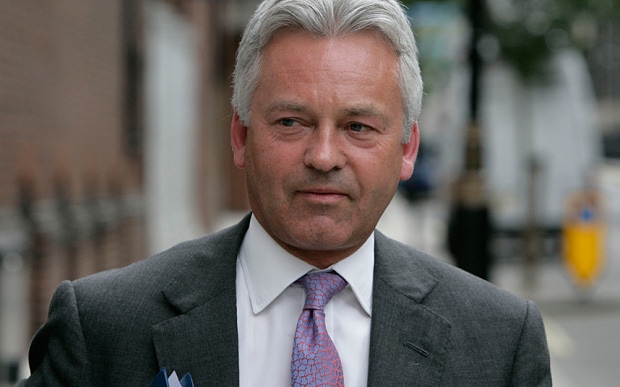 The British Foreign Minister for Europe and the Americas Sir Alan Duncan underlined the importance that the UK Government attributes to the "strategic partnership" with Turkey, saying that the Turkish economy and its role in the wider region "cannot and must not be ignored."
Sir Alan faced an almost two-hour long grilling at the Commons' Foreign Affairs Select Committee on Tuesday with questions on the UK-Turkish relationship, following Prime Minister Theresa May's visit to Ankara.
He said the visit was "very successful" as demonstrated by the £100 million deal involving British fighter jets. He described the approach between the two countries at the highest political level as an important strategic initiative.
Asked by the Committee's chairman Crispin Blunt MP what Turkey wants from the UK, Sir Alan replied that the Turkish government wants to see an understanding of the many security threats it faces. He added that such an understanding has been uniquely demonstrated by Britain and therefore Turkey sees in Britain a strategic partner that understands the region and Turkey itself.
As for the UK benefits out of this partnership, Sir Alan said that "Turkey is a very good example of the deeper and significant bilateral relationships that the UK would like to develop" post-Brexit.
He also highlighted Turkey's "crucial" role in the wider Middle East developments, especially Syria, in dealing with the migration and refugees flows, in combating terrorism and cooperating within NATO, as well as in the Cyprus talks.
Most of the questions addressed to Sir Alan by the members of the parliamentary committee were focused on Ankara's reaction to the failed coup attempt of last July. Responding to the doubts expressed over the regime's democratic credentials, the British Foreign Minister said that although the number of arrests of alleged plotters' sympathisers is indeed massive and requires justification, one should not underestimate "what Turkey has been through."
Asked specifically whether the UK Government believes that Fethullah Gülen was behind the attempted coup, as the Turkish government alleges, Sir Alan said that the Gülen movement seems to have had a "significant involvement" in what happened last summer. He also unequivocally rejected the "conspiracy theories" on any possibility of a staged coup by President Erdoğan to consolidate his power even further.
Sir Alan pointed out that while other countries, particularly in the EU, immediately started to shake their finger at Turkey for its reaction, the UK tried to understand what was happening – and that is something that has been appreciated by Ankara.
While MPs in the Committee commented that the upcoming constitutional referendum in Turkey will take place in an "undemocratic bubble", Sir Alan repeated that people need to understand what Turkey went through. He added that a close relationship would allow the UK to strongly voice any concerns on human rights.
Prime Minister May was also prompted to defend her visit to Ankara despite the concerns about human rights in the country. She told the House of Commons on Wednesday: "Turkey is an important country in relation both to our security and the issue of migration into Turkey and potentially into Europe… At the press conference I gave after my discussions with President Erdoğan and Prime Minister Yildirim, I made it clear that we had condemned the coup but expected the Turkish Government to support their democratic institutions, international human rights and the rule of law."/IBNA