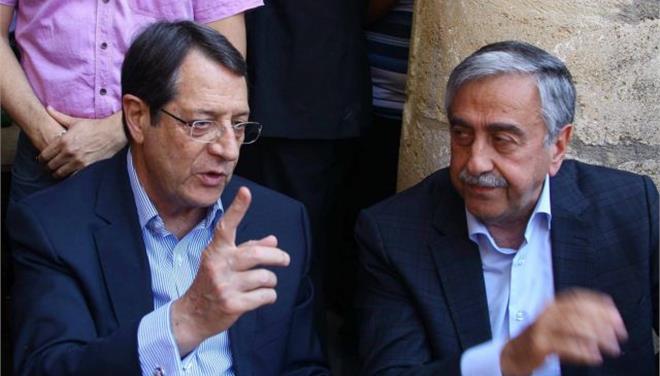 The President of the Republic of Cyprus Nicos Anastasiades updated the British Prime Minister Theresa May over the phone on Thursday afternoon on the developments in the Cyprus reunification talks in Mont Pelerin.
The failure of President Anastasiades and the Turkish Cypriot leader Akinci to reach a deal on the thorny chapter of territorial adjustments, which would pave the way for an international conference on security and guarantees, has caused some disappointment in Westminster, but has not killed off hopes for a breakthrough to the 42-year long Cyprus problem.
Speaking in the House of Commons a few hours after the unsuccessful conclusion of talks in the Swiss resort was announced, Minister for Europe Sir Alan Duncan dismissed talk of a collapse in negotiations.
"It would be an exaggeration to say that the talks have totally broken down. They have stalled for the moment and we are giving every possible support we can to the talks continuing, in the hope that they can still reach a successful conclusion for the reunification of the island," said Sir Alan, conveying the UK government's belief that talks can resume.
A Foreign Office spokeswoman told IBNA that "the UK fully supports the current settlement process and stands ready to help in any way it can in order to bring lasting peace to Cyprus."
The UK is expected to maintain the same stance of watching things for afar, waiting for the dust to settle and an expected renewed effort by the UN to salvage the talks to come through.
However, MPs that have been following the developments in Cyprus for years have asked for more details on how badly the failure to reach a deal in Switzerland has affected the good will of both Cypriot leaders, in order to determine whether they should ask for a more energetic UK call for the resumption of talks.
The conclusion of UK-based observers is that the two leaders probably just need more time, as well as the constructive contribution of Athens and Ankara in order to reach an agreement on the territorial adjustment criteria, in order to face head on the security issue, which bears a significant international aspect.
The optimism that has been cultivated over the last 18 months with regard to the Cyprus talks seems to have got a good grip on Westminster. Apart from the Minister for Europe, a long-standing friend of Cyprus, Theresa Villiers MP, said she agreed with the assessment that there has been a temporary setback but that this is not the end. As she noted, "I am even more optimistic now than in the recent past. The Cyprus people's desire for peace has been so strong that it provides a boost for the leaders."/ΙΒΝΑ