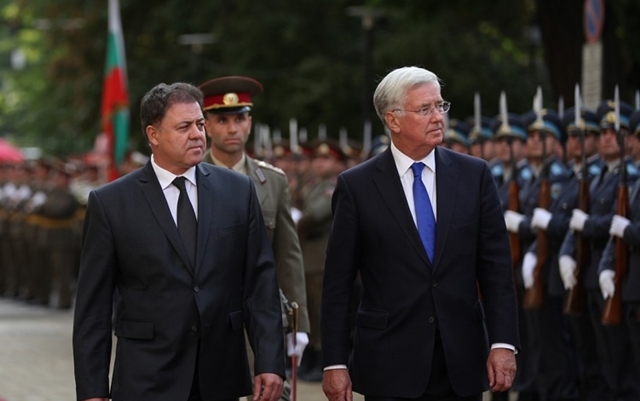 Sofia, September 28, 2016/Independent Balkan News Agency
By Clive Leviev-Sawyer of The Sofia Globe
During the first visit to Bulgaria by a UK Cabinet member since the UK's Brexit referendum, British defence secretary Michael Fallon said he was committed to helping Bulgaria deal with increased militarisation in the Crimea and the Black Sea, and greater Russian military transfers through the Bosporus.
His visit to Sofia on September 26, alongside a trade delegation of leading UK defence companies, was the first by a UK defence secretary in more than 20 years, and Fallon said both security and defence industry would benefit.
Fallon said the decision to leave the EU does not in any way diminish the UK's unwavering commitment to world security.
"A vote to leave the EU will not change Britain's commitment to European and global security," Fallon said.
"We are more determined than ever to uphold our defence responsibilities which is why we are doing more in the world today, not less. The UK is a global power with global influence and we're determined to continue using it for the global good," Fallon said.
Fallon met his Bulgarian counterpart Nikolai Nenchev and confirmed that the UK will send a Type 45 Destroyer to the Black Sea in Spring 2017 as a demonstration of the UK's on-going commitment to support Bulgaria, Nato's southern flank, and wider shared security interests. This follows on from the UK gift of 40 Land Rovers to the Bulgarian Border Force this summer.
"We want to send a clear message to our Bulgarian and European allies that we are standing strong with them to defeat our shared security threats. By tightening our ties today we're giving citizens in Bulgaria, the UK and the whole of Eastern Europe greater hope of a brighter future," Fallon said.
Since the Wales NATO Summit in 2014, the UK has stepped up bilateral work with Bulgaria, including several joint exercises, two of which took place on Bulgarian territory for the first time in a decade.
British Army and Royal Marine personnel have been collaborating with Nato forces on a range of exercises to improve interoperability. The T45 Destroyer visit follows-on from HMS Duncan's participation in a training exercise alongside a Bulgarian Navy minesweeper in November last year – the first major Royal Navy vessel in the Black Sea for seven years.
Fallon said that the UK and Bulgaria share the same values, face the same threats and share the same desire to have modern 21st century forces.
"We also share the same resolve to stand firm against aggression and the same desire to strengthen NATO the cornerstone of our defence," Fallon said.
Bulgaria remains a partner of vital strategic importance to the UK and the Defence Secretary highlighted the importance of continued investment to ensure their resolve to stand firm in the face of aggression.
"As Bulgaria invests more in defence the UK stands ready to help. We are Europe's leading defence exporter, generating four billion pounds in security exports a year. We have the skills and expertise to help modernise the Bulgarian Armed Forces and want to help develop their capabilities," Fallon said.
"The UK has a world-class technology base and an innovation initiative to harness our brightest brains to help us, and our allies, stay ahead of the curve.
"UK companies are already assisting our Bulgarian friends and we are eager to make even greater progress by forging new friendships and seeing where future collaborations might lead to make our nations safer and more prosperous," he said.
Fallon concluded his visit by welcoming Bulgaria's commitment to reaching the Nato Defence investment pledge by 2024.