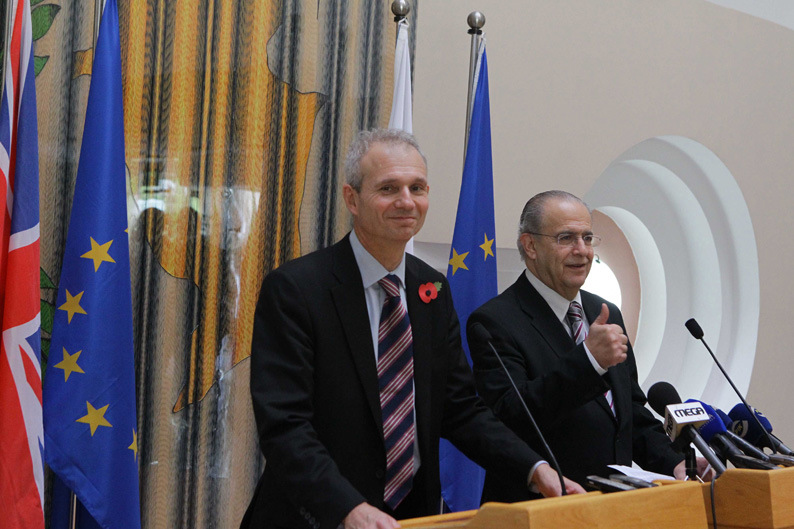 London, March 13, 2015/ Independent Balkan News Agency
By Thanasis Gavos
The Cyprus question and a number of issues of common interest were discussed between the Foreign Minister of Cyprus Ioannis Kasoulides and the UK Minister for Europe David Lidington in a meeting at the Foreign Office on Thursday afternoon.
The Foreign Minister said it was an "interesting" discussion, which covered bilateral relations on issues such as counter-terrorism, the cooperation of security services on this matter, as well as the role of the British bases on the island in the same respect.
"We mainly discussed the Cyprus issue, under which conditions the talks could resume, our standard position on the matter," added Mr Kasoulides. "[We discussed] the lifting of the reasons for which we have suspended the talks and that the two sides are required to demonstrate political will, because the determination of the time and the duration of the talks will depend on the produced progress. This is the factor determining the time and the duration.
"The efforts to create the conditions paving the way for the talks which have been made on our part must be duly appreciated, and from now on the Turkish side -Turkey and the Turkish Cypriot leadership- must be held accountable, because they have run out of alibis. They will need to demonstrate that they really wish for what they say, proclaim, trumpet and publicise, that they are supposedly the side that wants the settlement," concluded the Cypriot Foreign Minister.
Mr Lidington said he was delighted to welcome Foreign Minister Kasoulides. "Our discussions reaffirmed the strength of the UK's partnership with the Republic of Cyprus. It is clear that we are enhancing our already close co-operation across a range of critically important areas. We are working closely together within the Coalition to tackle the scourge of ISIS. Our defence relationship has never been stronger. And the UK is working with the Republic of Cyprus on a range of other crucial issues, including finance and public sector reform," stated the British Europe Minister.
Referring to the Cyprus issue, he said that both countries remain committed to reuniting Cyprus through a sustainable settlement consistent with UN resolutions. "I hope that substantive settlement talks will resume soon. So I look forward to continuing to work closely with the Republic of Cyprus on issues that matter to both of us, and forging an even deeper and broader partnership," he added.