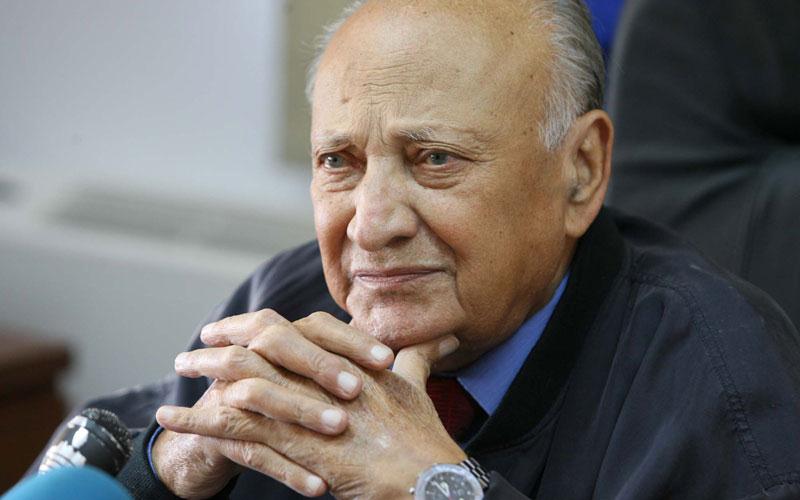 By Thanasis Gavos – London
The 15th of November 2013 will be quite a day to remember for Cypriots in the UK.
As the organised diaspora was getting ready for the annual picket rally outside the Turkish embassy in central London to protest the unilateral declaration of "independence" of the pseudostate in the north 30 years on, members of the community heard of the death of Glafcos Clerides.
The mood got sombre, with everyone referring to the statesmanship of the man. The rally did go ahead nevertheless, and it was one of the most energetic one in recent years.
After the rally ended the organisers of the National Federation of Cypriots in the UK felt the need to sum up the eventful day with a statement: "On a day darkened by the passing away of former President of the Republic of Cyprus and a great European statesman, Glafcos Clerides, British Cypriots continued his struggle and that of their country of origin, in protesting against three decades of the self-proclaimed illegal regime in the areas of Cyprus occupied by the Turkish army. "
The demonstration made itself heard despite the Turkish embassy's refusal to recognise the protest, formally accept the resolution put to it by Federation President Peter Droussiotis and members of the organisation's Executive and Secretariat, or to engage in dialogue with British Cypriots.
The letter of protest demanded the withdrawal of the Turkish occupying army and the Turkish colonists illegally transferred by Turkey to the north of Cyprus and called on the Turkish government to abide by the resolutions of the UN Security Council and international law. It also called upon Turkey finally to resolve the human tragedy of the Cypriot people who went missing during its invasion of the island in 1974.
Mr Droussiotis said: "Turkey gains nothing from continuing this façade in the occupied area, or from its outright failure to meet its international obligations in relation to Cyprus. The world will not and cannot tolerate Turkey's injustices in Cyprus indefinitely. The puppet regime in the occupied area is testament to Turkey's aggression against a vulnerable smaller state and, after three decades, remains an embarrassing, shameful and vivid example of Turkey's already poor human rights record and the most important obstacle in Turkey's proclaimed intention to join the European Union."
The President and the Secretariat of the National Federation of Cypriots in the UK also extended their deepest sympathies to the family of Glafcos Clerides.
"Glafcos Clerides was a great European statesman, a wise, fearless and highly principled politician who served Cyprus with great distinction throughout his long and eventful life" said Peter Droussiotis.
"He dedicated his entire political life to the struggle for a free, united and independent Cyprus. He was a visionary but also a pragmatic politician and an articulate advocate for the unity of Cyprus who led the island into the European Union, perhaps his greatest achievement.
"President Clerides will always be remembered by all Cypriots, whether living on the island or overseas, with great affection and admiration. His example of duty and sacrifice should be emulated by future generations of Cypriots wherever they may be. May he rest in peace."