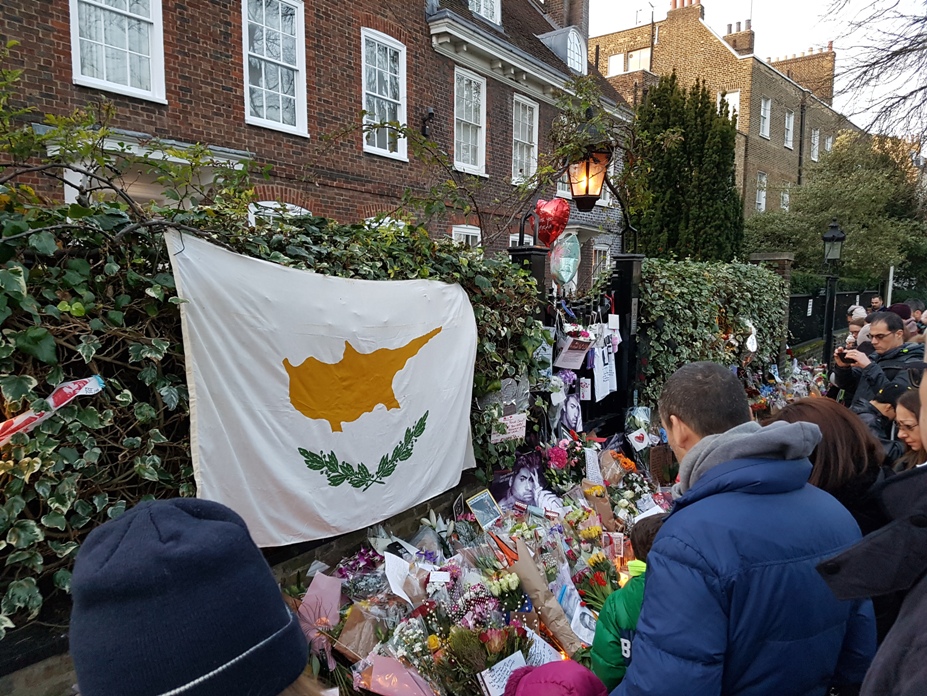 UK Cypriots have been mourning the death of George Michael who passed away on Christmas day at his Oxfordshire home after suffering a suspected heart failure.
The 53-year old pop star was born in north London's East Finchley, an area with a large Cypriot community even today, as Georgios Kyriacos Panayiotou. His father Kyriacos Panayiotou from Patriki in Karpasia (better known among his compatriots as Jack Panos) had been running a popular restaurant since his arrival in the UK in the first half of the 1950s. His mother was an English dancer, who died in 1997.
Among the tributes that thousands of fans have been leaving outside George Michael's north London mansion a large Cypriot flag features prominently. Many Greek Cypriots have been expressing their sorrow for the loss of an artist who to them was "one of our own".
Originally from Kyrenia, Maria from Kingsbury, where George Michael spent most of his childhood, came to pay her respects. She left some flowers and a picture of her idol. "He had signed it for me back in the late nineties. I had grown up with him and I had always been following his career; or rather his music had been following me, wherever I went, whatever I did," she told IBNA.
Michael was signing off a lot of his Twitter posts as 'The Singing Greek', while in an interview a decade ago he had said that he recognised his Greek Cypriot roots in the traits he had inherited from his father: "Cypriots are hard-working people."
A number of high-profile UK Cypriots expressed their grief for the passing of George Michael in statements to their community 'Parikiaki' newspaper, while the President of the National Federation of Cypriots in the UK Christos Karaolis noted that "through his outstanding contribution to the music industry over the years, George Michael highlighted the proud and exceptional contribution of Cypriots to the UK."
Pop star Peter Andre said that George Michael was "an incredible talent" and that his is "an incredible loss"; while the distinguished maternal fetal medicine specialist Professor Kypros Nicolaides said he was shocked by news of the singer's death and that he felt proud to share Cyprus with him as their fatherland.
The well-known psychologist and author Dr Linda Papadopoulos said that a George Michael poster used to be the biggest one in her teenage room wall, and UK Cypriot entrepreneur Theo Paphitis tweeted that George Michael was an "unbelievable legend".
Singer-songwriter Yusuf Islam/Cat Stevens (born Steven Demetre Georgiou) tweeted that he was very sad to hear of his "Cypriot brother" passing away./ΙΒΝΑ