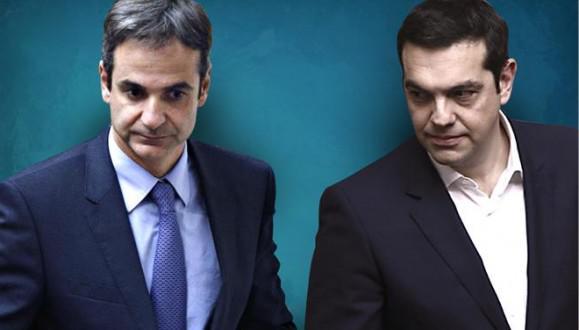 The British press, by and large, has been approaching the Greek snap election with a sense of inevitability as regards the result, basing their analyses on the polls that point to a change of guard in government.
The coverage has been focusing more on what is described as disappointment of the Greek electorate with Alexis Tsipras, rather than the vision for the future offered by Kyriakos Mitsotakis.
That is not to say that the latter's pledges to reduce taxes, create new full-time jobs and kickstart an influx of foreign investment has not been added by the UK commentators to the mix of factors putting New Democracy ahead in the polls.
The Times have commented: "The election itself underlines how Athens has failed to boost its economy and place the country on a surer footing. It also suggests that Greece's 11 million people may be looking for a centrist prime minister who can deliver faster economic results and lead the country away from the populist politics that dominated the Tsipras administration."
For the Financial Times, "after five years of confrontational politics by Syriza and Mr Tsipras — including brinkmanship with the EU and a stand-off with bailout creditors in 2015 that pushed Greece close to a disorderly exit from the euro — Mr Mitsotakis is betting that the country is ready for a different approach."
The British press has praised Mr Tsipras's "U-turn" in keeping fiscal discipline and his determination to go ahead with resolving the "Macedonian issue".
However, they seem to have concluded that the lack of sufficient progress in fulfilling his firebrand rhetoric pledges has turned the tide against him and his SYRIZA government.
This sense was resonated during a recent discussion at the London School of Economics on the future of the Greek banks.
The Head of Bain Capital Credit Europe Alon Anver, who said that his investment firm has gone ahead with seven projects in Greece since 2014, acknowledged that "the markets are happy that election will take place", urging any new government to "pick an economic direction and stick to it."
At the same event, the outgoing Director for Greece and Cyprus at the European Bank for Reconstruction and Development (EBRD) Sabina Djiurman said initially that "a lot has changed in Greece over the last four years… it is becoming a competitive environment."
She added, however: "The wave of demand (for investment projects) that had been expected has not been there. There is a big queue of things that should be happening; presumably they will after the 7th of July… Over the last few weeks there has been a sense of confidence, as investors think that a more business friendly government will come. So many of them are dusting up their investment plans."
But perhaps more that investments and economics, it is the talk of "betrayal" felt by SYRIZA voters that has become a recurring theme in British reports from Greece. As the BBC put it in its recent report from Athens referring to a young Greek voter, "the overall mood among her friends is of a lack of interest, rather than hope."/ibna