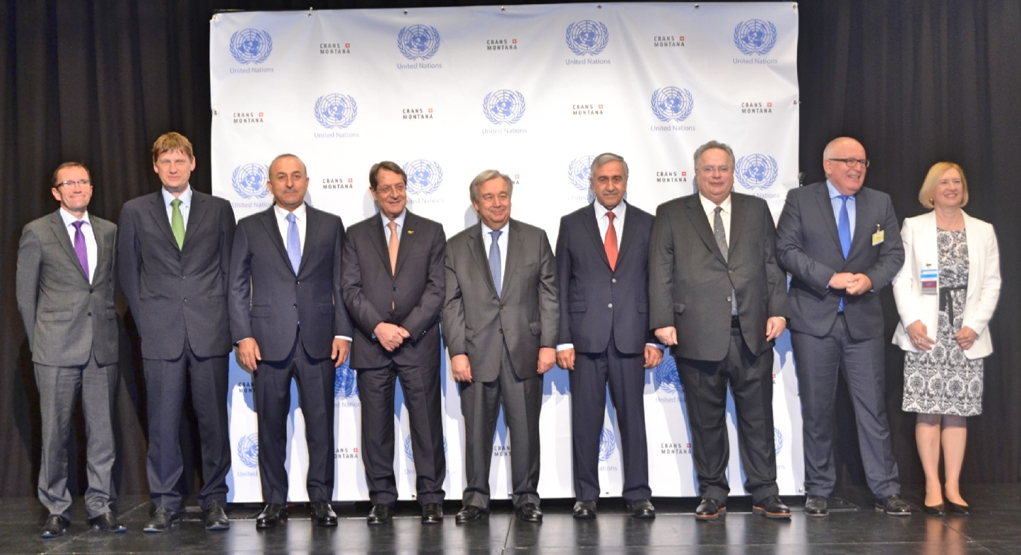 Theresa May's government has developed a particular affection for catchphrases which are constantly repeated whenever reference to a specific issue needs to be made; on the Cyprus settlement talks these phrases usually are "a unique opportunity", "ready to play our part", and "strongly support a settlement".
The British presence in Crans Montana, the Swiss resort where the Conference on Cyprus is reaching its climax, has in this case proved that there is substance behind the rhetoric.
The UK government does indeed believe that the two leaders in Cyprus have done an exceptionally brave job to have brought things to this point. The fact that Turkey has been talking to the Greek Cypriots and the Greeks who are also showing sincere willingness to take this to the end is another reason for London to be sounding optimistic, even if cautiously so.
In their many telephone and face-to-face conversations with interested parties both Mrs May and the Foreign Secretary Boris Johnson have always made sure to remind them that it would be a shame and quite a lost opportunity not to reach a settlement this time.
"Flexibility" and "creativity" are also Cyprus related favourite bywords for the British government. And the UK sees as its role in all this to try to bridge gaps without causing too much backlash from either side.
The prospect of an impasse in Crans Montana last Monday, once all parties had submitted their proposals and positions on the future of guarantees and security on the island, caused worry in London. Following calls between the heads of governments and the Foreign Ministers of the UK and Turkey and with input by the British delegation at the Conference, the Minister for Europe Sir Alan Duncan was urgently sent back to upgrade the UK role and try to persuade everyone to make concessions – to show "flexibility".
On the issues of security and guarantees the UK delegation is said to be leaning more heavily on Turkey, having for instance agreed with the position that the EU does indeed have the means to provide security in a reunited island. On internal aspects of the settlement, where the UK does not of course have a say, it has been urging the Greek Cypriot side to be more willing to compromise. "It has generally been an equal distances approach by the British once again in these talks," a diplomatic source who has been following the current phase of the Conference told IBNA.
Following Sir Alan's return in Crans Montana, the UK delegation has been much more active. But government officials were recognising until Thursday afternoon that while there had been little signs of encouragement, no real progress had been achieved. "With the UN Secretary-General's presence things could be moved forward. Everyone has presented their positions. But these were initial positions. If we manage to get them to negotiate then we will get there. That's what negotiating is all about, taking a step forward or a step backward from one's initial positions," a government official said.
Theresa May would be ready to travel to Switzerland if such progress were to be achieved. "It [the UK representation] would be at the appropriate level," said the official. At the start of the current process Downing Street was saying that the Prime Ministers' presence at the Conference would mean a deal is almost final or tantalisingly close. "For the time being there's nothing to be announced with regard to that," the official added./ΙΒΝΑ