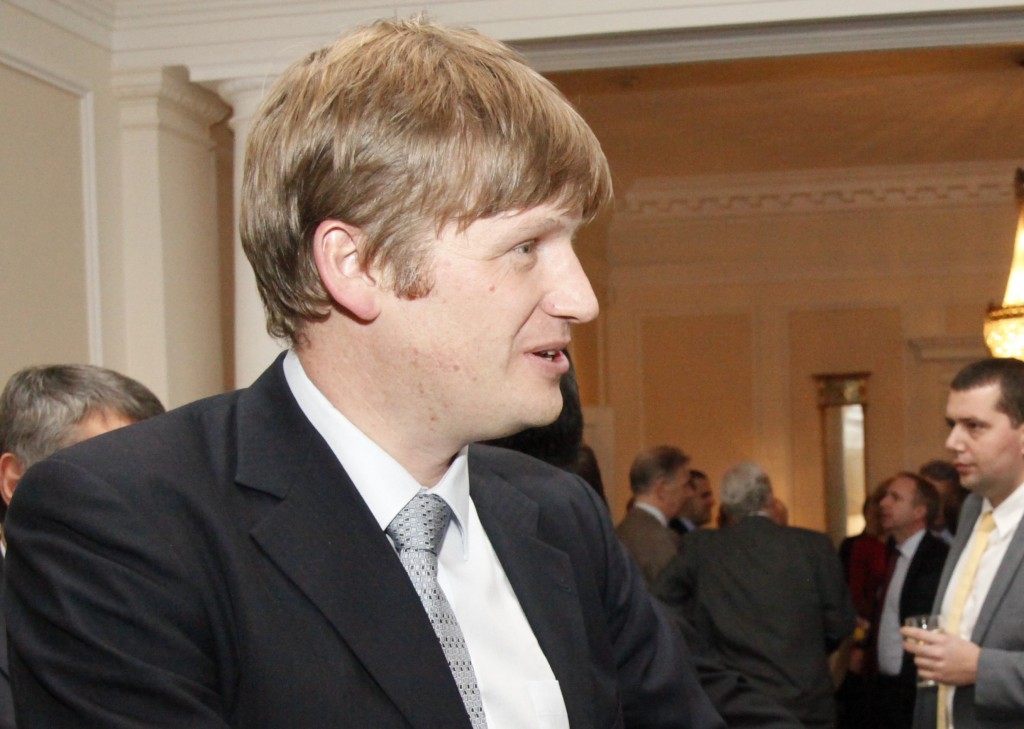 By Clive Leviev-Sawyer of the Sofia Globe
British ambassador to Bulgaria Jonathan Allen has warned that unless Bulgaria makes progress on building an inter-connector to be a link to the Southern Corridor pipeline route, the country's desire to be an energy hub will be bypassed.
Allen was speaking to the Atlantic Club, in a speech in which he also made a call for Bulgaria's government to "shine the spotlight of transparency on the South Stream gas deal."
Speaking of the need for energy diversification having become ever more urgent, Allen said that Bulgaria has a pivotal role to play on this energy diversification, both domestically and regionally.
Bulgaria could and should be a crucial link between Azeri gas flowing along the Southern Corridor pipeline route from 2019 and the rest of South East and Central Europe, he said.
Bulgaria already has a contract in place for 10% of that gas – 1 bcma – from 2019.
"Yet despite it being a priority project ever since I arrived here, there is no sign of progress on building an inter-connector to get it here," Allen said.
"If Bulgaria continues to fail this test, then Croatia will build a pipeline down the coast to Albania and this country, with its desire to be an energy hub will be bypassed. You can't be an energy hub if you don't have proper links to your neighbours."
Beyond this basic building project in its own back yard, Bulgaria could be a lead player in regional efforts to develop markets, pressing Romania to upgrade its gas ring, and pushing for the necessary inter-connectors with Serbia, Romania, Hungary and further afield, the UK ambassador said.
If it is to be a regional hub, then Bulgaria will also need adequate storage, at Chiren and Galata, he said.
Bulgaria needs the open energy markets that go with this infrastructure revolution, starting at the regional level and the ideas proposed by Hungary, Poland, Czech Republic, Slovakia, Romania and Bulgaria (the V4+). Those countries propose moving faster and going further than the EU as a whole in creating a single energy market, Allen said.
Domestically, there is much more to be done on energy security, he said.
In addition to the diversification that will come from Azeri gas and even LNG, Bulgaria has its own potential resources in the Black Sea.
"I find it baffling that the country is not doing all that it can to encourage exploration and production; instead, the authorities seem at times to act to prevent the exploitation of Bulgarian gas."
Allen said that he did not want to tread on a sensitive area so soon after an election (Bulgaria's early parliamentary elections on October 5), "but I would have thought that it was in Bulgaria's interest to at least know what the picture is on unconventional hydrocarbons, including shale gas".
He said that it was for every country to make its own decision.
Following extensive north American experience, the UK is certain that it is possible to exploit the benefits of shale whilst managing the risks, he said.
"It is certainly not any business of mine if Bulgaria wishes to say 'no, the risks outweigh the benefits'. But surely to make a risk/benefit calculation you need to know what the benefits are…what's actually underneath the soil of Bulgaria."
Allen said that Bulgaria's government could shine the spotlight of transparency on the South Stream gas deal.
"Let us be clear what South Stream is not. It is not a contribution to energy security, in terms of diversifying sources of supply. No new molecules of gas will flow into Europe. No non-Russian gas will flow."
While its supporters argue that South Stream will potentially benefit Bulgaria by bringing gas directly from Russia, there is very little known about the price Bulgaria will pay, Allen said.
"The European Commission, along with many observers, is deeply suspicious of the tendering process for the onshore part of the pipeline. Let it be reviewed openly in the Bulgarian national interest, not because a foreign institution is demanding it."
He said that while the UK cannot see an economic or political case for South Stream, if it goes ahead, it is absolutely clear that it must 100 per cent meet EU legal requirements and rules.
The last element of energy security is to use less of it, Allen said.
"Negawatts are cheaper than megawatts," he said.
Bulgaria was the most energy inefficient country in the EU, he noted.
That might sound like bad news, he said, but said tha the good news is that there were opportunities in this.
"A comprehensive energy efficiency programme would save money for consumers and the state and reduce dependencies," Allen said.
"You may not have thought of insulating material as a strategic weapon before, but think again," he said.