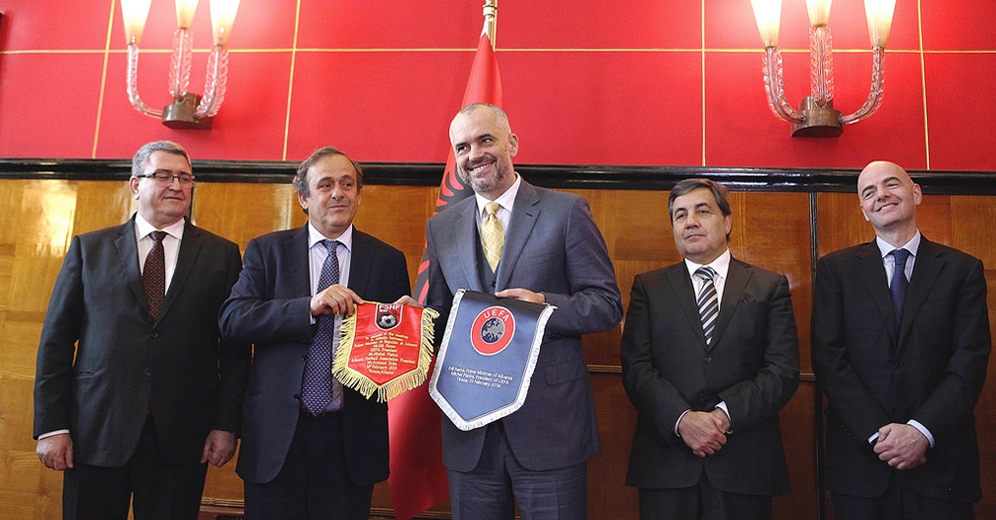 Tirana, February 19, 2014/Independent Balkan News Agency
By Albana Skenderi
A UEFA (European Football Federation) led by president Michel Platini has arrived in Tirana for a 1 day visit (photo) which precedes the elections for the new president of the Albanian Football Federation.
Prime Minister Edi Rama said that the focus of the meeting with the UEFA President was the construction of a new stadium and the introduction of a special football school.
Meanwhile, Platini expressed the support of the highest football institution for the construction of a new stadium in Albania, based on international standards.
UEFA delegation is comprised of the heads of this institution. Besides the president, Michel Platini there's also the secretary of UEFA, Gianni Infantino and the vice secretary, Teodors Teodoridis, who visited Tirana in November in order to be informed about the introduction of football in schools.
A new national stadium, but not in the capital
The last government had promised that in the framework of the 100th anniversary of Independence, Albania would have a new national stadium, with contemporary standards. The plan was to demolish "Qemal Stafa" national stadium and to build a new stadium there. This promise made by Mr. Berisha remained on paper, because that stadium was never build, although matches were no longer allowed to be played in the stadium.
Now, the new stadium has changed its destination. The new government wants to build the stadium away from the capital.
Prime minister Rama said that the construction for the new stadium will start at the beginning of fall: "We're convinced that in September, we will give to our national team a stadium in Elbasan, which will be up to the level of image that we want for Albania".
The government will fund this project in cooperation with the Albanian Football Federation.
Platini offered details on the new national stadium which will be build in Albania. "The new stadium will be built in Elbasan, around 40 km away from Tirana and it will be very important for international matches. This stadium will be built as soon as all the conditions are met", said Mr. Platini. The project in question consists of the reconstruction of the current "Ruzhdi Bizhuta" stadium in Elbasan.
Platini also said that a new vision will be built for sport and football in Albania, "as starting from September 2014, all matches that will be played in Albania, will be viewed throughout the world".
Platini also explained how the new stadium will be built: "The prime minister will help in this aspect. The Albanian Football Federation too. We, ae UEFA will assist too, by bringing equipment, different experts, thus helping in the development of football in Albania".
Meanwhile, Rama and PLatini have also talked about the future of the current National Stadium, which unfortunately doesn't meet the necessary standards to host international matches today. But neither Rama nor Platini didn't offer any details as to what will happen to this stadium.
"We're expcting an Albanian Ronaldo and Messi"
Platini delivered a message along with premier Rama: "It's important for your youth, your children to be entertained through this sport and perhaps one day, a new Ronaldo and a new Messi will come out, a beautiful thing for Albania". /ibna/