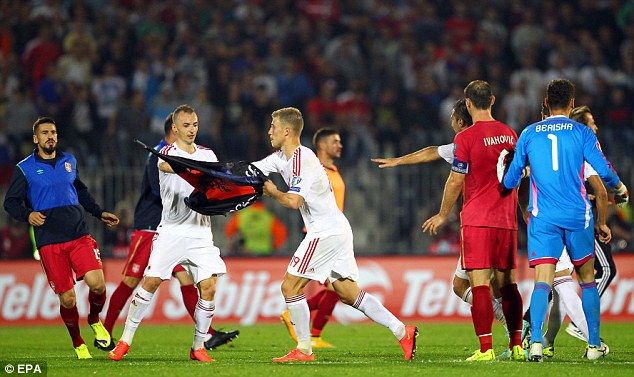 Tirana, October 24, 2014/ Independent Balkan News Agency
UEFA Disciplinary Committee has announced today the decision in relation to the football match between Serbia and Albania. This Committee has decided to grant Serbia a 3-0 win, thus giving three points to Serbia. This decision has been made after UEFA representative has reported that the Albanian national side had refused to come back on the field.
The Committee has also decided to remove three points to Serbia.
The Serb national team has been penalized to play two matches without fans.
Meanwhile, Serb Football Federation and the Albanian one have been fined 100 thousand Euros each. The announcement of the decision today in Geneva, Switzerland, came one day after it was postponed due to the fact that the files sent by respective federations were voluminous and UEFA said that it needed time to examine them.
AFF: A bizarre decision
Albanian Football Federation has issued a press statement where it has confirmed the decision of the UEFA Disciplinary Committee, by saying that Albania loses 3-0 on the table and that it has been issued a fine of 100 thousand Euros.
As far as Serbia's penalization with -3 points is concerned, AFF officials said that it's the same as if the match hadn't been played. General Secretary of AFF, Ilir Shulku said in an extraordinary press conference delivered a few minutes ago that the three points should have been granted to Albania, because the entire event which precipitated, according to him, was a penalization and didn't favor the Albanian side.
Shulku said that the decision will be appealed at the Appeal Committee. "We will appeal this decision, because it's the same as if the match hadn't been judged at all, as someone had to take the three points. But, to grant Serbia three points and remove them at the same time, it's really bizarre", said Shulku. /ibna/