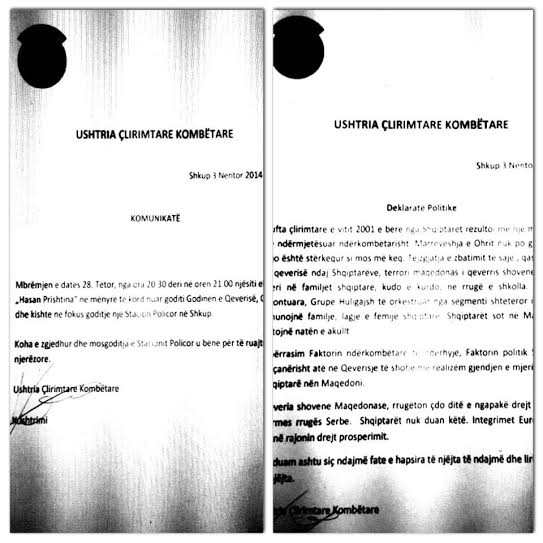 Skopje, November 7, 2014/Independent Balkan News Agency
By Naser Pajaziti
Through a statement which contains the insignia of the National Liberation Army (UCK), responsibility is assumed about the grenade attack against the government building in Skopje on October 28.
The statement has been sent to several media.
"On the evening of October 28, from 8.30 pm to 9 pm, elite unit "Hasan Prishtina" has stricken in a coordinated way the government building, the Court and its target was a police station in Skopje. The timeline that was chosen and the decision not to attack the police station was made to protect people's lives", says the statement, which at the end has been signed by commander Kushtrim.
At the same time, a political statement has been issued in response to the failure to apply the Ohrid Agreement and the violation of the rights of Albanians.
"The failure to apply the Ohrid Agreement, the chauvinist approach of the government toward Albanians, Macedonian terror of the chauvinist government has been unleashed on Albanian families everywhere, in the streets and in schools. Orchestrated trials, groups of hooligans orchestrated by state intelligent structures, attack Albanian families and children. Albanians in Macedonia are living today a nightmare. We call on the international community to intervene, the Albanian political factor and especially, the government to acknowledge the dire conditions of the Albanian community in Macedonia", reads the statement.
The attack occurred on the evening of October 28, when two grenades, which were initially suspected to be shells and later, after examination resulted to be grenades, were thrown toward the government building, hitting the upper side. Police authorities declared that the case is being investigated and no details are offered in order not to compromise the inquiry. /ibna/